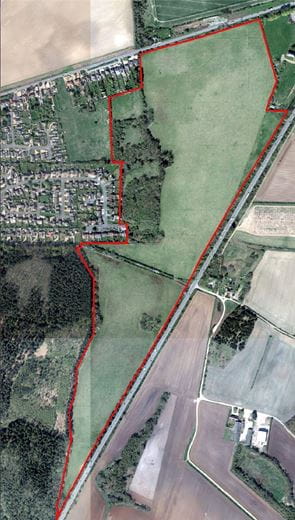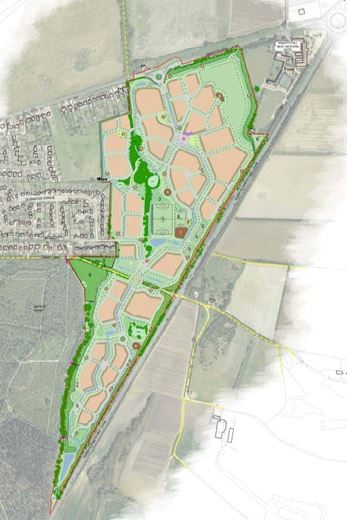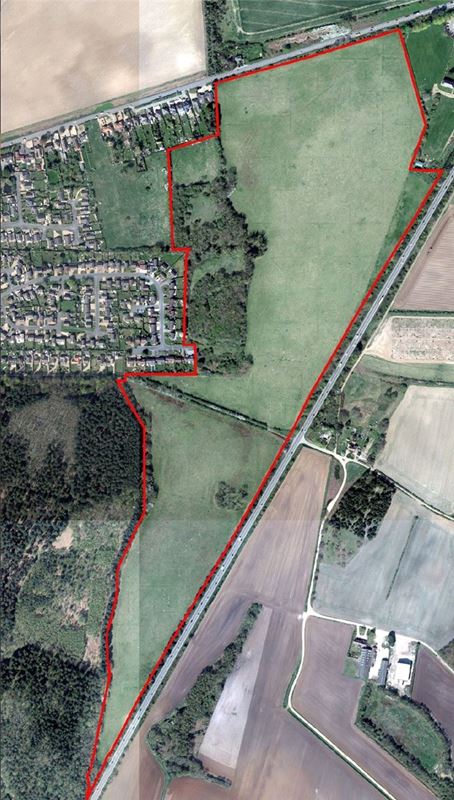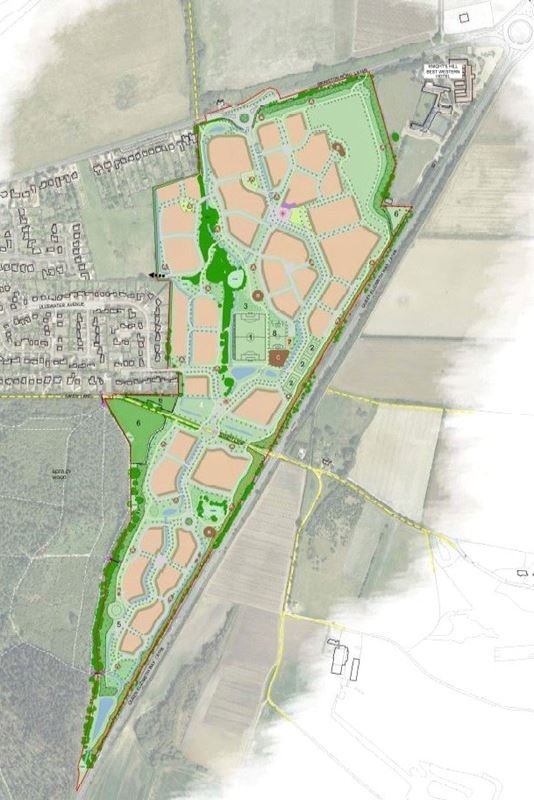 Land At Knight's Hill, South Wootton, King's Lynn, No PE30
Land At Knight's Hill, South Wootton, King's Lynn, No PE30
87.2 acres (35.3 hectares)
RESIDENTIAL DEVELOPMENT OPPORTUNITY
Outline planning permission for up to 600no. dwellings, a Local Centre for A1, A2, A3 and/or A5 uses, D2 community space, open space, formal sports pitches, a car park to serve Reffley Wood, and associated infrastructure and landscaping.
The Opportunity

A residential development site with an outline planning permission for the construction of up to 600 dwellings, incorporating Affordable Housing and a Local Centre for A1, A2, A3 and/or A5 (600m²), with the total quantum of A1 net sales area not to exceed 279m² in the alternative, D2 Community floorspace (up to 500m²), open space, formal sports pitches, a car park to serve Reffley Wood and associated development to include substations, drainage features, roads, cycle and pedestrian paths and other such works.

Location

The site is situated approximately 2 miles to the North East of King's Lynn, with the northern boundary being formed by the A148 Grimston Road and to the east by the A149 Queen Elizabeth Way.

The site is well located to provide access to the wider road network via the A10 to the south and A47 running from east to west.

King's Lynn Railway Station, providing a regular service to London King's Cross, Ely & Cambridge, is 2.9 miles away.

South Wootton is a village and civil parish covering an area of 8.54 km² (3.30 square miles) and had a population of 3,717 in 1,450 households at the 2001 Census, increasing at the 2011 Census to a population of 4,247 in 1,696 households. For the purposes of local government, it falls within the Borough of King's Lynn and West Norfolk.

The older part of the village grew up around the village green and St. Mary's church, though there has been a fair amount of new housing built since the 1960s. There are two schools in South Wootton - South Wootton First School and South Wootton Junior School both of which are rated Good by Ofsted.

The town of King's Lynn provides secondary and further education, together with a wide range of shopping and employment facilities.

Planning

Appeal reference APP/V2635/W/19/3237042 was allowed on the 14th July 2020 in accordance with application reference: 16/02231/OM, which is outlined above and was originally submitted in December 2016.

The application site straddles the unparished area of King's Lynn, where the CIL rate is £0 and £60 in South Wootton and Castle Rising. The Affordable Housing threshold is 15% and the Parishes of South Wootton & Castle Rising in Kings Lynn have a threshold of 20%.

There is an indicative masterplan accompanying the outline planning consent and a full planning summary, with full documentation and signed S106 Agreement is situated within the Microsite, which details the planning history of the site.

The Section 106 Agreement includes contributions towards:

• Affordable housing
• Habitats Monitoring and Mitigation Payment of £50 per dwelling
• Contribution to Community Ranger and Community Engagement Delivery Plan at Roydon Common – capped at £117,000
• Reserving of land of not more than 500m2 for community use
• Highway improvement contribution for Low Road, Wootton Road, Grimston Road and Castle Rising road Junction – capped at £172,000
• Education contributions for all dwellings located south of Sandy Lane (in unparished area of King's Lynn)
• Library contribution – for all dwellings located south of Sandy Lane (in unparished area of King's Lynn) capped at £75 per dwelling
• Contribution towards the provision of new/extended bus services, capped at £500,000
• Monitoring fees

The Site

The site extends in total to approximately 87.2 acres (35.289 hectares) and made up of two distinct fields, to a greater extent agricultural in nature, which are separated by Sandy Lane an unsurfaced lane, running from east to west across the consented area.

Tenure

The site will be sold freehold with vacant possession. All Title plans can be viewed within the Legal section of the Development Microsite.

Value Added Tax

The majority of the site has been opted for VAT which will be payable on the purchase price. Further information is contained on the microsite.

Microsite Information

A Microsite has been created and includes Planning, Legal and Technical documentation and access can be arranged upon request.

Tender

All tenders must be received by 12 noon on Thursday 4th February 2021. Tenders should be emailed to Mathew Forster, Richard Combes and Richard Sturt, contact details are available within the attached brochure / particulars.

The Landowners and Promoter reserve the right not to accept the highest, or indeed, any offer.

Timetable

• There will be several designated viewing days during the marketing period.
• Viewing by appointment only.
• Informal Tender Date: 12 noon Thursday 4th February 2021.
• Post-bid interviews to be held via Microsoft Teams.

Should you require any further information please contact the Joint Selling Agents. Contact details are available within the attached brochure / particulars.
Key Property Details
Location

Greenfield

Mixed Use
Plot Range

201+ Plots
Use

With Planning

Houses

Affordable
Size of land

87.2 acres

(35.3 hectares)
Carter Jonas reference

PDE200015
Search similar in neighbouring areas
Thinking of selling?
FIND OUT WHAT YOUR PROPERTY IS WORTH