A Revolutionary Approach to Equestrian Property

Many ascribe to the view that opposites attract, but a suggested union between horses and rollercoasters is where most would draw the line. However, a new horse training system near Lambourn in West Berkshire, otherwise known as 'The Valley of the Racehorse', has proved revolutionary, even in an area boasting 1,500 stables.
The £6.5 million Kurtsystems pre-training system is the passion project of Turkish businessman Mehmet Kurt. Concerned about the potentially career destabilising injuries picked up by yearlings before their racing career had even begun, he envisioned a state-of-the-art system that would safeguard their still-maturing limbs.
"These young horses couldn't bear the weight and exercise regime in the early months of training as their musculoskeletal systems had not yet matured," Mr Kurt said.
"I became determined to better prepare them for training by developing their musculoskeletal systems using an initial "pre-training" phase. I felt that if we could pre-train the young horses using an entirely mechanical system, we could then introduce gentle speed and light weights, and then gradually increase them in a controlled and sustained manner. But – this would require new technology."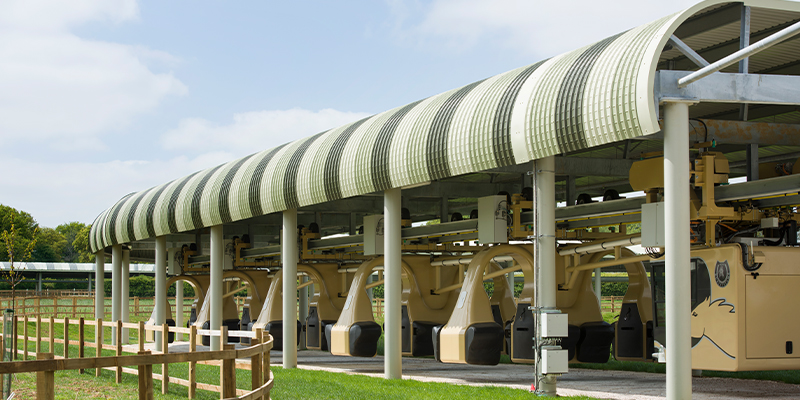 RUNNING MATE
A phone call completely out the blue was how Simon Turl, Partner in the Carter Jonas architectural team, first heard about the project.
"When the Kurtsystems team visited us from Turkey to tell us about the exciting scheme, they were trying to put together we were obviously very keen to be involved," Simon said.
"We hadn't done anything like this before but neither had they - it was a world first."
Mr Kurt envisioned a structure that would keep the horses safe from the threat of human error, closely monitoring their physiology using customised electronic fitness monitoring equipment in order to build their strength gradually.
Consisting of a 1.5km oval track featuring a monorail hung training system, five, two-horse training cabins, would be suspended from the rail and attached to each other. A drive unit large enough to accommodate the operator of the system and up to five observers dictates the pace the system travels at, speeding up and slowing down in accordance with the horse's training regime.
It was now over to the team at Carter Jonas to make this dream a reality.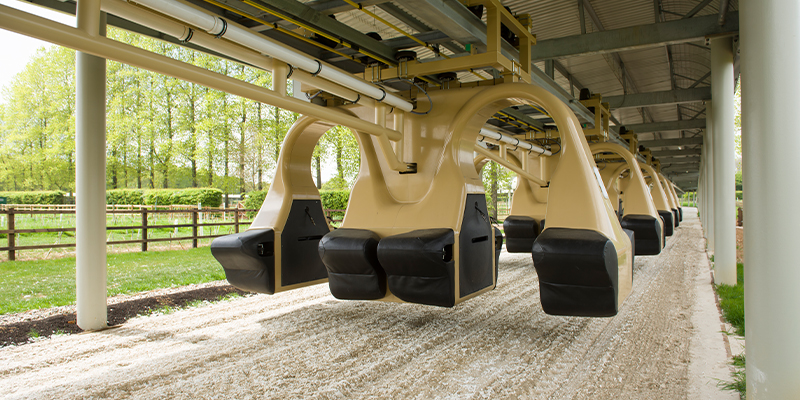 FIRST HURDLE
Of course, before the project could really get started the team needed to clear the first big jump; securing planning permission. "Several public footpaths go across the site, which meant there could be close public scrutiny of the building," Simon said. "From a design perspective, we integrated a roof on the system which we probably wouldn't have done ordinarily. It was in three shades of green to try and reduce the visual impact on the surrounding hillsides."
Once planning permission was secured, Carter Jonas set about orchestrating a team of experts to get the project off the ground.
"From a German roller coaster system to a car precision engineering company in Essex, the project saw experts come together from around the world to create a scheme that is unique in its own right," Simon said.
A RUN FOR YOUR MONEY
Work began on the site in October 2015. "The construction itself is actually simple - there's just a lot of it!" said Simon. "The groundworks was the most complicated aspect and getting the levels right; the actual physical design of the buildings was relatively straightforward."
The challenge for the construction engineer was taking into account loadings that wouldn't normally be present on buildings. "The system is effectively a suspended roller coaster - if you think of a roller coaster frame, when a vehicle comes to a stop it has to come to a stop quickly, for instance in an emergency. If a horse stumbles, we needed to be able to hit an emergency stop and for the system to halt immediately. That momentum then gets transferred into the structural frame, which generates a load on the building you wouldn't normally have."
Simon admits that issues arose once construction began, none of which were helped by the particularly wet weather experienced that winter. "Surface water was running off the site and impacting progress," he said. "This started to cause problems with stability and there were also issues with the electricity supply.
"There were lots of challenges, but there are with every project – nothing gets built simply!"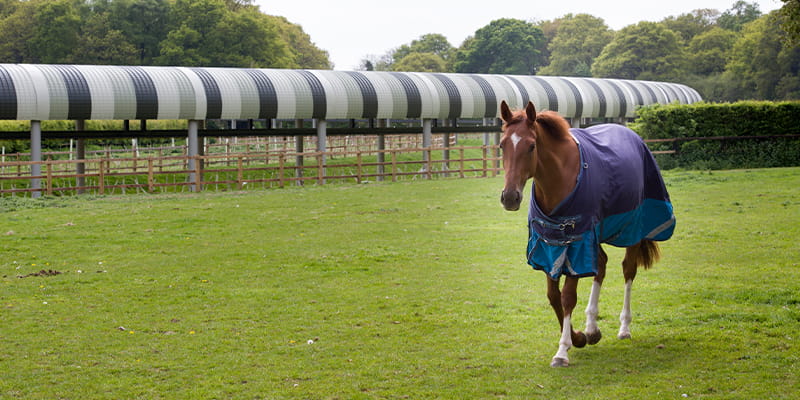 AND DOWN THE STRETCH THEY COME…
Despite the odd stumble, the finishing line was soon in sight and the system was finished by January 2017.
Officially opened by Princess Royal on 1 February 2018, the system has been admired by influential figures across the racing industry.
"We're very proud to have been involved in what is effectively a unique development," Simon concluded. "It's fantastic to see it up and running and being used for what it is designed to do."
@
Simon joined Sutton Griffin, now Carter Jonas, in 1999 and in 2010 was promoted to Director, specialising in commercial, retail and residential work with special responsibility for the technical design and contractual delivery of projects. His experience in large-scale projects enables him to guide Carter Jonas schemes through calm waters. Simon also ensures that the firm harnesses the latest technologies to create graphics and presentation materials that are second-to-none. Simon's interests are predominantly dictated by his family of three young sons and their own sporting activities but if he does get a break from taxi driving, he enjoys attempting to play golf and sailing.
I can provide advice on:
Equestrian Property
Here are the equestrian property services we offer
Find out more