MARKET OUTLOOK COMMENTARY
Summer 2020

Market and Outlook Commentary: The private rented and Build to Rent sector
For many months at the end of 2019 and start of 2020 we had been reporting that rental rates in the private rented sector were increasing modestly. According to the Office for National Statistics (ONS) rents across the UK rose by an average of 1.0% during 2018, increasing to an average of 1.3% during 2019 and so far in 2020 (May, latest), rents have reportedly increased by around 1.5% annually.
Meanwhile the Association of Residential Letting Agents (ARLA) has reported an increase in the number of landlords raising rents since around May last year. Prior to May 2019 ARLA reported an average of around 27% of tenants who experienced rent rises on a monthly basis. However, since that period, this had almost doubled, rising to an average of 48% of tenants saying their rents had increased.
ARLA's latest report notes that rent increases have fallen dramatically during the coronavirus crisis as many landlords have chosen not to increase rents during such financially uncertain times. However, we do not anticipate that 'rent increase holidays' will last beyond much of this year, and indeed the supply and demand structural imbalance within the sector more generally, will keep rents propped up.
In terms of the supply of available properties to let, over the last 2-3 years there has been a notable and increasing imbalance in the supply and demand of private rented properties, exacerbated over the last 12-18 months as private landlords have retreated as it became less financially attractive. As such, with the retreating of individual private landlords from the sector, we have seen an increase in the number of institutional landlords in the build to rent arena.
Build to rent units – according to British Property Federation (BPF) there are currently 40,181 BTR units completed across the UK, a rise of 33% over the same period last year when there were 30,312 units completed (Q4 2019 v Q4 2018). This sector has grown exponentially in the last five years – in December 2014 there were around just 5,000 BTR units across the whole of the UK.
In the short-term the build-to-rent market, whilst being affected by a very reduced number of new tenancies, will be fairly insulated from the worst of the economic effects of COVID-19, particularly as the government announced a three-month moratorium on evictions.
With cashflow issues due to possible rent arrears in the months ahead, the supply side of the private rental market may become even tighter in the longer-term. This may be of benefit to institutional landlords as supply is squeezed but demand is unlikely to have changed.
On the development side, new build activity will slow substantially, certainly as many housebuilders halted construction altogether during the peak of government restrictions on social distancing and movement during April and parts of May this year. Although it is undoubtedly the case that construction of build to rent units will also be impacted, it may also be that housebuilders will look to diversify their route to market, increasing the number of affordable homes or build to rent units in order to prop up their cash flow, in as many avenues as possible.
Looking further ahead and the sector should weather this downturn well. Underlying structural drivers such as continued population growth, a chronic undersupply of housing, and a shift in attitudes by younger people as they are drawn by the flexibility of the rental market (particularly in the build to rent sector which often emulates purpose-built student housing accommodation which many will have just moved on from), will continue to make this sector attractive in the longer-term.
Our latest publications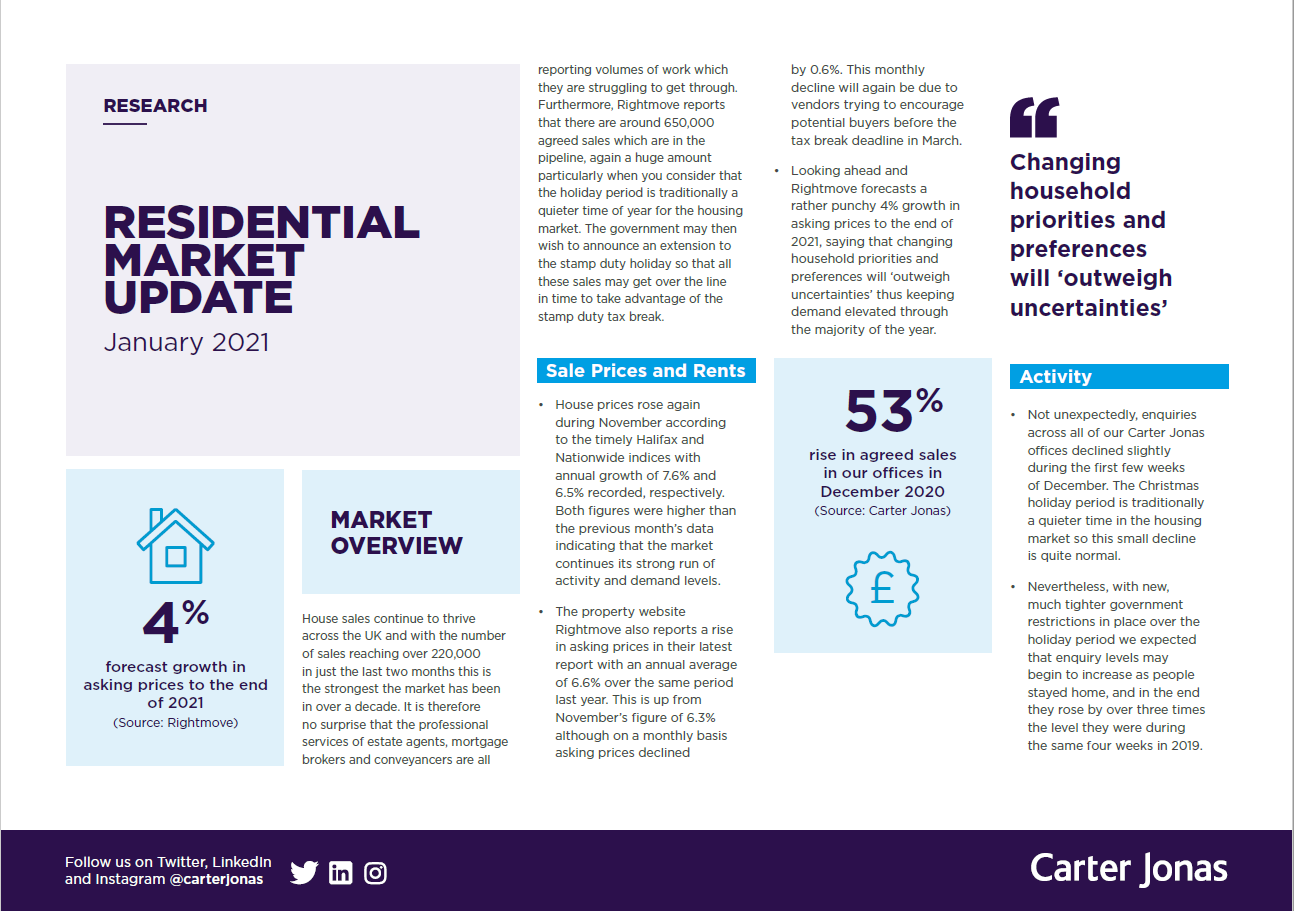 DOWNLOAD
Residential Market Update - January 2021
Download PDF
RESIDENTIAL BLOCK MANAGEMENT
From day-to-day maintenance, important risk assessments and health and safety checks and advising developers on a building's design, we can take care of absolutely everything relating to apartment blocks and their communal areas.
FIND OUT MORE