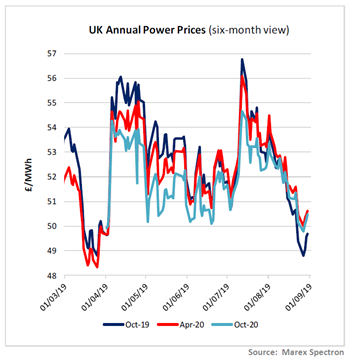 Short-term power prices had a bearish month due to weak demand and healthy supply levels which were bolstered by the restart of the Hunterston B4 nuclear reactor, after several delays. However, the Dungeness nuclear plant restart has been delayed by six weeks which could increase supply sensitivities going into the winter period.
Meanwhile, longer-term prices were pressured downwards by weakness in other energy commodity markets such as carbon and oil. Winter '19 prices slipped to a 16-month low at £51/MWh which help push October '19 Annual price below £49/MWh.
Carbon prices fell almost Euro 9/TCO2 from the 13-year highs reached in July following economic jitters in Europe and increasing expectations of a no-deal Brexit looming. Meanwhile the oil market also crashed lower in the first week of August over ongoing US-China trade war fears and high US oil stocks before swinging back up around the $60 / barrel mark. This is still close to its lowest level since the start of the year.
Power prices ticked back up slightly at the end of August, however, the start of September has seen prices slip back down once more.