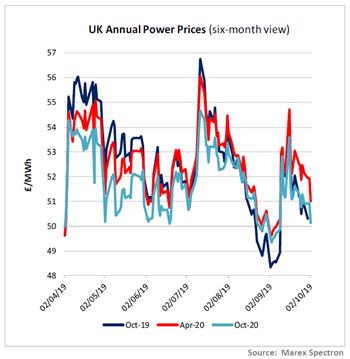 UK energy prices, both short-term and long-term, were impacted by fears of supply shortages in mid-September, which resulted in a double spike in markets before dipping back down towards the end of the month.
On the 9th September, news from France of further nuclear plant issues caused a surge in UK energy power prices due to supply shortage fears. Month-ahead price saw the greatest gain of 12% while Winter '19 price rose by 9% on the day.
As prices looked to be easing, key Saudi Arabian oil facilities were attacked by drones on the 16th September, effectively halving the country's oil output and intensifying US and Iran tensions. Brent crude oil price surged by $10 per barrel to move just below the $70 per barrel mark which filtered through to drive longer term UK energy prices upwards.
Short-term markets felt less of an impact as gas and power supplies in the UK remained healthy amid particularly high wind generation. These conditions persisted for much of the month of September and helped to keep power prices below £40/MWh. Windier than normal weather is expected to remain for the first half of October, along with seasonable norm temperatures which will likely keep short terms markets stable.