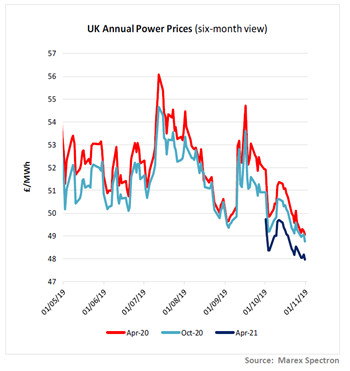 Forward electricity prices slumped in October following the spikes witnessed the previous month. This was largely down to improved supply expectations for the winter period and beyond. A stronger pound helped pressure prices further, while rallying oil and carbon markets were unable to curb the fall. April 2020 annual price fell by £2/MWh while month-ahead November price fell by £5/MWh.
Short-term electricity prices were more volatile, driven by changeable wind generation levels and a choppy gas market. Gas prices were highly changeable in October, supported at times by unplanned Norwegian outages and colder forecasts, while pressured down at other times by healthy levels of LNG cargoes from Europe. As a result, day-ahead prices swung as high as £43/MWh and as low as £33.5/MWh.
Short term weather forecasts predict colder than average temperatures in the first couple of weeks of November but, further out, climate models suggest the winter could be milder than normal. This would help keep UK energy prices stable over a usually highly volatile period.