THE AGRICULTURAL ROBOTS ARE COMING
It's no longer a question of 'if' but 'when' agricultural robots will be deployed into the farming and agribusiness industry, according to the Small Robot Company.

Agriculture is on the cusp of a technology-led age that will prove to be as significant as the time when tractors first replaced horses. That's the vision of Small Robot Company co-founder Sam Watson Jones. Sam says that the robot technology about to be unleashed will have a fundamental impact that will not just change the way landowners farm, but the way the countryside looks.
Sam's aim is to create a farming industry where fieldwork, from drilling to harvest, is carried out by small robots acting autonomously. It contrasts sharply with the long-term trend towards bigger and more expensive kit operating in large fields of single crop types. For Sam, a fourth-generation arable grower, the economics of that ethos stopped making sense in a light-bulb moment back in 2014.
Working through the books on his Shropshire farm, he could see that average crop yields hadn't changed in 25 years, yet the cost of machinery had risen relentlessly. "It suddenly stopped making sense to go on buying larger and larger pieces of kit and having to change the countryside to make them work efficiently," says Sam. At about that time Sam encountered the work of farm robot pioneer, Simon Blackmore, a now-retired professor based at nearby Harper Adams University. With the growing conviction that farming with robots could be viable, Prof Blackmore introduced Sam to technology entrepreneur Ben Scott-Robinson in early 2016.
THE CONCEPT
While the concept of farming with robots is advanced, Ben and Sam wanted to ground any venture in muddy-boot practicalities. The first step then was to canvass farmer opinions and Sam interviewed dozens of growers about the strengths and weaknesses of existing farm equipment. It was clear that farmers shared Sam's concerns over the direction of machinery use, its scale and cost. The meetings also revealed that farmers were keen to work with new technology, but they weren't ready to buy hardware because they feared the fast-developing technology would carry a high initial cost.
With that in mind, Ben and Sam developed the concept of building, developing and supplying the robots as a service rather than offering them for sale. This meant ownership of the robots would be retained by the developers but the use of the hardware could be secured for a regular payment. On this basis, a partnership with 20 leading growers, covering 4,000 hectares of farmland was established. Each farm invested £5,000 to kick-start robot development and in 2017, Sam and Ben co-founded the Small Robot Company and it's Farming as a Service (FaaS) venture.
SUBSCRIPTION-BASED SCHEME
The aim of FaaS is to charge subscribers a monthly fee for the service, which will include all aspects of farming, from field mapping to harvest. The robots will either be stored at the farm or, with larger crop control machines, the Small Robot Company team will transport the unit to the farm when needed. Each small robot costs just £5,000 to build. This cost is already coming down and will soon fall below £1,000 per unit, predicts Sam. Costs will be far lower than financing large pieces of equipment which often sit idle in the shed for 11 months a year, says Sam.
THE ROBOTS
Development of a trio of all-wheel drive, battery powered robots – code-named Tom, Dick and Harry – is progressing so rapidly that the 10-strong team of engineers and software designers is ahead of schedule. The first to be operating is Tom, which is about the size of a microwave oven and will eventually be stored on a subscribing farmer's unit.
Tom is a mapping robot, which takes high resolution images of wheat plants with a top-down view. The target is to log each plant with a geolocation device accurate to 2cm using real-time knowledge data, combined with a magnetic compass. The prototype Tom will soon be capable of mapping 1ha/hour and operating autonomously for 20 hours a day. The data collected by Tom is fed into an analysis system called Wilma, who uses image recognition software and artificial intelligence to learn the difference between wheat plants, weeds and other objects. Progress has been rapid and Wilma can already identify wheat plants from weeds. As Wilma fine-tunes that knowledge, she is also learning to distinguish between a healthy or stressed plant and different weed species. Once Wilma has been calibrated to reliably detect nutrient deficiencies, plant moisture deficits or weed populations, she will work in conjunction with Tom to recommend a course of action and alert the next robot – Dick.
Dick is the trouble-shooter and, at about the size of a quad-bike, will be transported to the farm when needed. "He could be operated by the farmer, a Small Robot Company employee or a contractor," Sam suggests. At the farm, Dick will use the mapped data to identify the treatment area. To kill weeds, he will use an electrically-charged lance, apply a pesticide in a targeted micro-spray or crush the plant as it emerges. His other uses include the precision application of fertiliser, direct to the plant root, or tiny amounts of pesticide to take out disease.
Harry, the seed driller, will be the last of the initial trio to be developed. Harry is a no-till drill which will be able to sow crops with far greater flexibility than the large kit currently on sale. He will use the information provided by Tom and Wilma to punch seed into the soil at precisely the right depth and location for optimum growing conditions. Data stored on a plant-by-plant basis means that, if a single one fails to emerge, Harry will be able to replace it.
The trio will be joined this summer by a utility robot, capable of carrying a variety of payloads up to 200kg. Already codenamed Jack, this unit may deploy a soil sampler or transport equipment and inputs for the other robots to use. A precision harvester, as yet unnamed, is also progressing towards launch. It will link to the mapped data and accurately follow the crop lines drilled by Harry. The lighter weight means a reduction in soil compaction and less crop damage. "Robots could work on land that is off -limits to larger kit or reduce compaction on heavily trafficked areas, boosting yields," points out Sam. And smaller kit is less dependent on weather and soil conditions, creating a larger operating window to carry out tasks at a time when they are most needed, for example applying fungicide to a diseased area even when soil conditions would prevent larger machinery from getting into the field. The greater precision of a small robot means inputs can be targeted more closely, ruling out overuse of sprays and fertiliser and cutting their use to the minimum required.
That, in turn, reduces the costs of farming – both financially and environmentally.
THE ROBOT REVOLUTION
Together the robots offer huge scope to revolutionise the way we farm and, with that, spark a new phase of evolution in the appearance of the British countryside, explains Sam. Collectively, the robots and Wilma are creating the world's most detailed cropping data models. Data on topography, micro-climate, soil type, input use and yields is recorded, indicating which areas of a field to use and in what way.
"A single field could contain a mixture of crop types set out by Tom, drilled by Harry and maintained by Dick. That could feed the information to create a profit per hectare equation." Sam explains. "The small robot harvesters will then follow up, gathering the individual crops precisely along the rows mapped out. "Rather than being bounded by straight lines and ever-increasing field sizes, the countryside could become a swirl of growing crops produced at maximum profit. "Working to the soil's strengths, rather than changing it to meet the requirements of larger machinery, makes more sense environmentally and financially," says Sam.
FUNDING
The case for technology in agriculture is compelling, and the Small Robot Company has attracted more than £2.5m in funding from backers, large and small. Almost half (£1.2m) of the total was raised through the crowdfunding site Crowdcube. About 30% this total was contributed by farmers, and the huge interest saw the initial £500,000 target surpassed within minutes of launch.
Among the non-farming backers is Google's principal designer Matt Jones, who acts as the team's mentor. Of the remainder, the government-backed public body Innovate UK has provided two grants worth £900,000. Farmers have contributed £300,000 in seed funding, including £90,000 in pre-sales. Two further inputs of £50,000 each have been provided by crowdfunder Indiegogo, and through a Horizontal Innovation Award from the Institute of Engineering and Technology. Shares in the Small Robot Company, at 34p each, have contributed further capital.
---
To read more articles like the one above click the link below to download the full publication.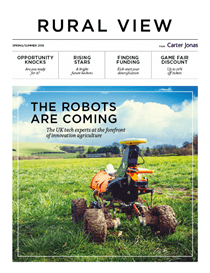 Inside this Spring/Summer 2019 edition of Rural View, you will find articles about crops being sown, grown and harvested without a single person entering the field, as well as an interview with the Small Robot Company, conversations with the next generation about the rapid pace of change and what this means for their careers, and how technology can be used to harness opportunities and make businesses more resilient, plus many more.