Our specialist team of Chartered Surveyors and Chartered Planners is recognised as a leading provider of specialist estate management, valuation and development advice relating to all mineral properties and waste management matters and infrastructure.
The team advises landowners, operators, financial institutions and infrastructure providers throughout the UK and has considerable experience of projects involving aggregates, industrial and energy minerals, construction materials manufacturing plants and all types of waste management facilities.
Our mineral & waste management services include :
Strategic planning, site search & promotion.
Mineral Resources Assessments & Viability Appraisals.
Advice on mineral ownership, severance & working rights.
Agency – property acquisition, disposals, leases, easements & wayleaves.
Property Management – surveys, land terriers & lease administration, including rent & royalty reviews.
Planning Applications, Appeals and EIAs.
Valuations for all mineral, waste management & ancillary properties.
Advice on the compulsory acquisition of mineral & waste management assets, the Mining Code & assessments of compensation.
Business Rates consultancy.
Expert Witness and Dispute Resolution Services.
Working with colleagues from the wider firm, we provide a full suite of services across the life cycle of mineral & waste management property, including rural land management, geomatics, telecoms & energy advice, plus master-planning & development expertise to release latent value at surplus sites.
We are also able to offer the following infrastructure services:
@
@
David Sandbrook
Head of Minerals and Waste Management
0758 590 3627
email me
about David
@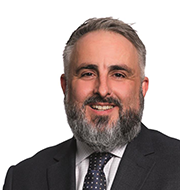 Paul Clarke
MRICS
Partner
07715 510056
email me
about Paul
Paul advises clients throughout the British Isles on minerals estate management matters including: the negotiation and management of leases and licences, valuations of minerals/waste interests for lending and taxation purposes, rating assessments and appeals, valuations for compensation claims (including claims for compulsory purchase and claims under Mining Code legislation), the acquisition and disposal of property interests and planning issues with regard to quarrying and waste management operations.
Paul also has experience in assessing and identifying potential mineral prospects and subsequently advancing these through the development plan system, both on behalf of landowners and mineral operators. Typically, he deals with operational quarry sites, concrete batching plants, landfill sites, non-hazardous MRF's, hazardous waste treatment facilities and energy from waste plant sites.
I can provide advice on:
Keep Informed
Sign up to our newsletter to receive further information and news tailored to you.
Sign up now
Related services
Mapping and geospatial
Solving your property problems with location-based solutions
Explore service
Valuations
The valuation of property is a core part of our practice and stands at the heart of all property ...
Explore service
Our other infrastructure sectors services