Land at Darlington Road
Northallerton
Client

Private individuals

Sector

Commercial

Location

Northallerton

How we helped
@
@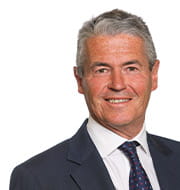 John Webster
FRICS
Partner - Head of Planning and Development North
0113 203 1063
email me
about John
John is Head of the Leeds office and the Planning & Development Team North. John advises clients on proposed development projects throughout the North of England. He has over 30 years' experience in residential and commercial development acting for private, corporate, institutional, charity and public sector clients.

This includes site identification, project management of planning and development strategies, valuation and viability appraisals, marketing and sale of development opportunities.

John has specific expertise in Options, Promotional Agreements, Joint Ventures and Conditional Contracts, acting mainly for landowners. John has been involved in projects such as new settlements, to city centre regeneration, provincial sites, large commercial developments and site sales.

The Development Agency team are currently instructed on 6,500 acres in 150 locations across the North West, Yorkshire and the North East.


I can provide advice on:
The Carter Jonas Leeds Office have been acting for local farming family, the Gills, since the mid-1990s in relation to farm land on the northern outskirts of Northallerton, currently allocated within the Hambleton District Plan for both commercial and residential development.
Carter Jonas identified developers to promote the land, which has been master planned in detail and put forward to Hambleton District Council for consideration for development through the Local Plan process. The proposals have been accepted by the Council by way of a Preferred Status Allocation in the Local Plan and more detailed development proposals are being considered.
A Planning Application was submitted in 2014.
John Webster, Head of Commercial at Carter Jonas Leeds Office, commented: "The development proposals have varied over the years. A pure commercial scheme has now grown into a larger mixed use proposal involving other land owners and a new link road to the north of the Town."
The project has required a good deal of patience on our part and of course that of the land owners and a good deal of co-ordination and communication between all parties concerned."
The first 10 acres of the site were sold for the Landowners in April 2017 with 12-month draw downs of the remaining 45 acres scheduled for the next 4 years.
Martin Foster of Developers, Castlevale Ltd, commented: "We have being dealing with John Webster for nearly 10 years now in progressing development options over approximately 50 acres for land for housing and commercial in Northallerton. John's primary role has been acting for the site owners to ensure the returns for their land holdings are being maximized by our efforts. During this time, John has not only fulfilled this role but has also been a great support to us in the development process and made the interaction between developer and landowner a much more even and collaborative relationship, his advice benefitting both sides of the transaction to mutual gain."