Crossrail 2
Greater London

Client

Network Rail

Sector

Infrastructures

Location

Greater London

How we helped
@
@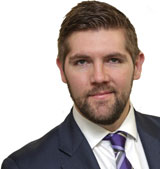 Simon Mole
Head of CPO and Land Assembly
01962 833398
email me
about Simon
@
Ben Thomas
MRICS
Associate Partner
0113 203 1077
email me
about Ben
Simon has over 13 years of professional expertise advising both acquiring authorities and claimants from the public and private sectors across transport, infrastructure and regeneration schemes. Clients include Network Rail, Transport for London and Buckinghamshire County Council.

For those promoting powers, Simon has significant experience in all aspects including formulation, referencing production of CPO documents, objection management, and implementation of powers and negotiating claims. He is leading land and property teams on a number of significant projects across the country including East-West Rail Phase 2, AVTM Metrobus and Havering Housing Zone.

Simon has experience in valuation, claim negotiation and drafting scheme objections He has given evidence at CPO Inquiries and Hearings and has prepared expert evidence for the Upper Tribunal (Lands Chamber). Simon is a member of both the Compulsory Purchase Association and the National Infrastructure Planning Association and an RICS Registered Valuer.
I can provide advice on:
Ben's role is providing land assembly services for infrastructure and regeneration projects, either through private treaty negotiations or if necessary through Compulsory Purchase Powers. He assists acquiring authorities promote and implement Compulsory Purchase Orders, including negotiating claims with affected parties whilst assisting authorities create and maintain realistic property cost estimates.
Ben qualified as a Chartered Surveyor in November 2013 following past roles as a Compulsory Purchase Surveyor as well as working in property management and as a commercial agent. He has therefore gained a wide breadth of experience, but his specific expertise is in compulsory purchase and compensation.
I can provide advice on:
Carter Jonas advised Network Rail on the compulsory purchase compensation liability that will likely result from the proposed Crossrail 2 surface works.
As part of the proposed Crossrail 2 project, upgrades to existing railway network will be required. These include level crossing closures, station upgrades together with the construction of new embankments, bridges and viaducts.
Simon Mole and Ben Thomas, within the Infrastructures Team at Carter Jonas, provided Network Rail with an estimated cost for acquiring all land necessary to undertake these surface works on the northern section of the route between Chesthunt in Hertfordshire to Tottenham Hale, together with the southern section of the route running from Wimbledon to Epsom, Chessington, Hampton Court and Shepperton.
As an additional piece of work, Carter Jonas provided Network Rail with advice regarding the early acquisitions that are likely to be required through the Statutory Blight process following the safeguarding of land.
To complete the work, a presentation was delivered to senior members of the Crossrail 2 delivery team at Network Rail summarising the findings.