Outline planning application for a new market town submitted on behalf of Homes England
Date of Article

Jul 24 2020

Sector

Planning & Development
Keep Informed
Sign up to our newsletter to receive further information and news tailored to you.
Sign up now
@
Nick is a chartered town planner and development surveyor with over 25 years' experience, gained across the residential, commercial, retail and industrial sectors for corporate, institutional and private landowners and developers. He has worked at CBRE and Drivers Jonas Deloitte. His professional experience is in three main sectors – Strategic Land / Projects, Retail / Mixed-Use and Central London. Strategic Projects / Land involves the promotion of land for commercial and residential development for landowners and developers. Retail / Mixed-Use schemes are a blend of edge of centre and town centre mixed-use schemes with food stores and other uses, often residential. This sector includes regeneration and waterside schemes. Central London focuses on projects from Canary Wharf to Hammersmith and Camden down to Wandsworth, Southwark and Lambeth.
When he isn't working, Nick can be found playing golf (increasingly badly) and spending time re-stocking and emptying his wine cellar to indulge his passion for wine.
I can provide advice on:
Our planning team has recently submitted an outline planning application for a new market town at Chalgrove Airfield to South Oxfordshire District Council (SODC) on behalf of Homes England.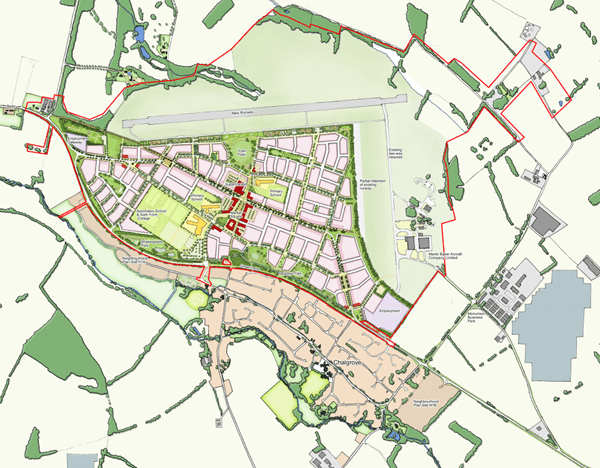 This follows over three years of preparatory work and discussions with SODC, the County Council, local residents and other stakeholders. If approved, the development will provide 3,000 new homes, two new primary schools, a new 1,500 student secondary school, a new town centre, employment land and approximately 30 hectares of public open space.
Alongside the preparation of the planning application, our planning team was also responsible for the submission of representations to support the site's draft allocation within the emerging Local Plan for SODC. A decision on the planning application is expected to be taken following the adoption of the emerging Local Plan.
For further information, please contact a member of our team:
Nick Taylor
Partner
07584 681596
nick.taylor@carterjonas.co.uk