Outline planning permission secured for up to 118 dwellings at Hay Green Lane, Birdwell
Date of Article

May 04 2021

Sector

Planning & Development
Keep Informed
Sign up to our newsletter to receive further information and news tailored to you.
Sign up now
@
Emma has been a member of the Royal Town Planning Institute (MRTPI) since 2008 and joined Carter Jonas in 2010 having previous experience in multidisciplinary private practice.

Emma provides advice to clients on all aspects of town and country planning including the development potential of land and property in urban and rural areas. Preparing and negotiating planning applications and appeals for residential, business and leisure schemes.

She also provides strategy advice to Estates in the form of Estate Appraisals in which she identifies sites and buildings with development potential and an appropriate strategy to realise this in the short, medium and long term.

This includes land and buildings in urban, rural and Green Belt areas. Emma has also been involved in the preparation and submission of various representation to facilitate the promotion of land through the Local Development Framework process.
I can provide advice on:
Find me on Linkedin
On behalf of Harworth Group PLC, our planning professionals based in Leeds have successfully secured outline planning permission, including means of access, for up to 118 dwellings on 3.59 ha of land at Hay Green Lane, Birdwell.
Following a pre-application enquiry, the team subsequently managed engagement with local residents and ward members and the preparation of technical information required to support an outline application.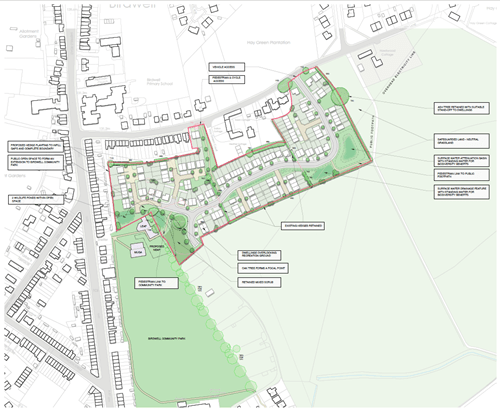 Upon submitting the outline application, our planning specialists worked closely with the council to achieve a high quality indictive layout which provides a policy compliant level of affordable housing, public open space and 'no net loss' of biodiversity through on and off site enhancements.

The team also continued to work closely with ward members and local residents to address concerns raised in relation to the public highway in the vicinity of the site and in particular around the nearby primary school, offering a variety of measures as part of the S106 that go beyond the requirements identified by the Council's Highways Department to ensure highways capacity and safety are maintained.

Following the resolution of all technical issues the application was taken to planning committee with an officer recommendation for approval, which was subsequently endorsed by members.