Carter Jonas Prime Central London Residential Sales & Lettings Report - Spring 2013
Date of Article

May 02 2013
Keep Informed
Sign up to our newsletter to receive further information and news tailored to you.
Sign up now
PRIME CENTRAL LONDON SALES MARKET
8 April 2013, The PCL sales market continues to remain volatile at the local level although overall trading activity has increased during Q1 2013, with viewing numbers rising by an encouraging 24% in the first three months of the year.
While applicant numbers have only risen by 2% during the same time period, domestic purchasers have dominated activity in Q1 and are expected to remain active moving into the summer months. That said, foreign buyers are expected to become more active moving into Q2, particularly from Asia. Middle Eastern activity has remained muted to date in 2013 although demand from Egyptian investors has witnessed a notable increase.
Stock levels across PCL continue to remain restrained, falling by 15% during Q1 2013 across our network of offices, and realistically priced and good quality product tends to sell well and above 2007 levels. However, due to the historically low stock levels evident throughout the market, there is an increasing temptation for vendors to price product six months ahead and therefore some values have become inflated which has, in some instances, stalled activity.
Prices have stabilised in Q1 2013, with only the very prime markets witnessing value increases of 2-3%. Market conditions are forecast to become more challenging during the latter half of 2013 in terms of maintaining values and early indications of 2014 are no different.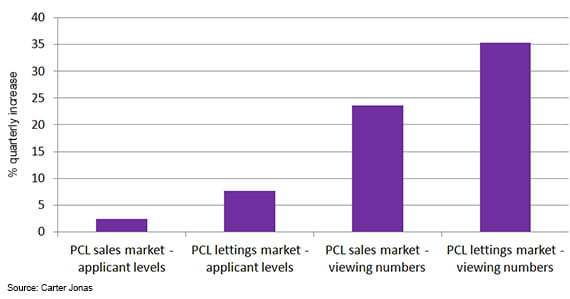 PRIME CENTRAL LONDON LETTINGS MARKET
The PCL lettings market has experienced a challenging first three months of the year. An 8% reduction in achieved rental levels across our network of offices was recorded during Q1 2013. This downward pressure is a result of a sharp increase in rental stock levels since 2012 year end as a significant proportion of landlords continue to retain portfolios due to stabilising and, in the case of prime stock, rising capital values. Despite the reduction in rental values recorded in Q1 2013, the average weekly rent recorded across our network of offices stands at £878 per week, a 10% increase from its comparable level in 2012.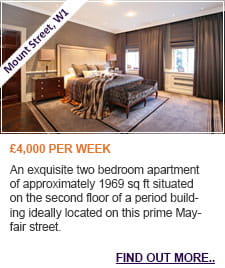 An early Easter restricted applicant numbers across the market, although most recent numbers show an 8% increase compared to January levels and viewing numbers increasing by 36% over the same time period, marking a positive indication for market activity in Q2.
International demand continues to dominate the PCL lettings market, accounting for 64% of all completed transactions in Q1 2013. Interestingly demand has stemmed from a wide diversity of occupiers, including French, American and Chinese with no particular domination of any one nationality.
Stock levels are expected to continue to increase moving into the summer months and as a consequence values are expected to remain subject to downward pressure in the PCL market. This is in sharp contrast to the country lettings market where an acute shortage of supply is evident, partially due to the sale of many properties due to the ongoing economic malaise. This growing shortage of stock has resulted in a 33% increase in rental levels recorded during Q1 2013.
VIEW ALL LONDON SALES PROPERTIES