All Property Index Forecasts 1.9% Total Returns In 2017
Date of Article

Jan 09 2017
Keep Informed
Sign up to our newsletter to receive further information and news tailored to you.
Sign up now
Total returns at the All Property level are expected to be positive in 2017, despite the economic and political challenges that surround the UK's decision to leave the EU. Carter Jonas, the national property consultancy, has forecast total returns of 1.9% for 2017 – although this represents a sharp decline from last year's 6.1% and the 15.2% recorded in 2015.
Carter Jonas is the first leading property advisor to produce an All Property Index which combines the rural sector with the office, industrial, retail and residential sectors to give a comprehensive overview of UK real estate performance.
With capital values expected to ease in many parts of the market, income and proactive asset management will become the main drivers of property performance over the next 6 to 12 months.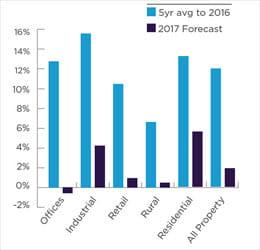 Commercial
Industrial is set to continue to be the stand-out sector, outperforming other areas of commercial property with returns expected to reach 4.2%. This can be attributed in part to the ever-increasing popularity of online retail, which is driving demand for storage and distribution solutions. Conversely, offices are expected to deliver mildly negative total returns (- 0.5%) for the full year.
Commenting on the commercial market, Darren Yates, Head of Research, Carter Jonas, said: "The slowdown can be attributed partly to the impact of the Brexit vote, though in reality the market had been slowing before the vote in June. Strong rental growth, particularly in parts of central London, had priced-out some small to medium sized occupiers, while yields in all commercial sectors reached their pre-financial crisis peak some time ago. Outside of London, rents and capital values have experienced more limited growth and are less susceptible to a market correction.
"Once seen as an alternative asset class, logistics is now a favourite of the commercial investment market, with demand being driven mainly by the ongoing change and innovation in the retail sector, exemplified by Amazon's recent successful trial of its Prime Air drone delivery service. In recent years, increasing investment activity has seen traditional investors, such as SEGRO, joined by overseas investors, as well as more niche funds and local authorities, targeting both super sheds and smaller units."
Rural
The typically low-yielding rural sector recorded negative returns in 2016, following five years of strong performance. Rural returns are forecast to be mildly positive in 2017, although many landowners and potential investors will be waiting to see how Brexit may affect agricultural policy.
Commenting on the rural market, Yates continued:
"As in the commercial sector, a decline in returns in the rural market can in part be attributed to a natural market correction, as well as the impact of the referendum result. The government has committed to fulfilling subsidy payments up until 2020, whilst looking to deliver a new agricultural support system post-2020. However, uncertainly surrounding these changes has undeniably contributed to weaker forecasts for returns.
"That said increases in land values were recorded in parts of north and western England. Over the next twelve months, rural land is expected to remain in high demand, as margins in the sector continue to recover due to lower costs and increasing commodity output prices."
Residential
Total returns in the residential market are forecast to reach a healthy 5.6% in 2017 - although well below the five-year annual average of 13%. The market has been affected by recent tax changes, which have reduced the appetite of smaller investors in particular, with many expecting to see higher tax bills as the phased removal of mortgage tax relief begins in April. However, a reduction in the supply of new stock to the private rented sector could underpin short-term rental growth which, coupled with moderate house price appreciation, should halt the trend of shrinking rental yields.
Commenting on the housing market, Yates said:
"With weaker capital value appreciation forecast over the coming year, investors are likely to adopt a more income focused approach to residential property. By focusing on areas that benefit from a balance of strong rental yields and growing local economies, investors can ensure good returns."
Whilst Brexit negotiations are likely to dominate the political and economic landscape for the foreseeable future, arguably the UK property market is in any case coming to the natural end of a long growth cycle and this has also contributed to lower forecasts for returns.
Yates concluded:
"Total returns are forecast to moderate across the board, but property remains an attractive proposition for many investors compared with other asset classes over the medium to long term. Property yields continue to offer a significant margin over bonds and equities, as well as delivering a stable income with the ability to add value through proactive asset management."