Carter Jonas awarded for 'pioneering' innovation at The Lettings Agency Awards
Date of Article

Jun 10 2013
Keep Informed
Sign up to our newsletter to receive further information and news tailored to you.
Sign up now
3 June 2013, National property consultancy Carter Jonas' Digital Marketing team was awarded silver in the Best Innovation category at The Lettings Agency of the Year Awards 2013, in association with The Sunday Times and The Times and sponsored by Zoopla.co.uk.
On Friday 24 May, over 450 leading lettings agents from throughout the UK attended a glittering ceremony at The Lancaster Hotel, where the winners of the only dedicated awards for the lettings agency industry were revealed.
The winners received their awards from Karren Brady, one of the UK's leading businesswomen.
Carter Jonas, winners in the Best Innovation category are thrilled to receive the award.
Daniel Fulbrook, head of digital marketing comments, "The team has worked tirelessly to develop its online/offline integration with our Quicklink and mobile website combination, and I am delighted that we have been recognised for our digital innovation. In order to maintain our unique position in the market, we will continue to develop our marketing strategy in line with digital trends and media consumption. "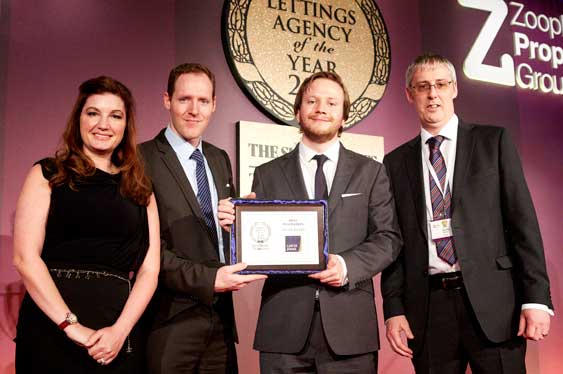 The judge's report highlighted that "Technology was at the heart of the Carter Jonas entry and this innovation prompted the interviewing judge to proclaim that the idea had actually changed his perception of the agent".
The report also highlighted that competitors were likely to imitate, "but as far as lettings agents entered into the Innovation category, Carter Jonas appear to be the pioneers".
Now in its fourth year as a dedicated competition to the industry, these awards have become widely recognised as the most prestigious. With more entrants than ever, nearly 5,000 offices were represented this year, but only the very best of the best were crowned as winners.
The details of the Carter Jonas entry can be found on the lettingsagencyoftheyear.com website.
For further information, please contact Gemma Haimes, head of PR at Carter Jonas.