Experience island life in one of Cumbria's most spectacular National Trust houses
Date of Article

Sep 20 2013
Keep Informed
Sign up to our newsletter to receive further information and news tailored to you.
Sign up now
20 September 2013, The search is on for a new tenant at one of Cumbria's most spectacular island homes.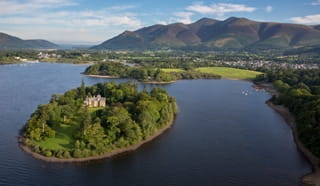 Derwent Island House is set on a seven acre heart-shaped island; and is just 150 yards, by boat or canoe, from the shores of Derwent Water.
The setting is one of the prettiest in the Lakes. To the north is Skiddaw, to the south is Borrowdale and the nearby slopes of Catbells rise above the lake. There are fabulous views from every aspect of the house, gardens and grounds and yet the bustle and services of Keswick is only half a mile away.
The Grade II-listed house has seven bedrooms, a one-bedroom annexe, five reception rooms, including a sitting room which opens out on to a roof top terrace, library and a dining room seating 20 guests. There is also a large garden room with doors onto a patio, cellar and stores on the lower ground floor.  The Italianate-style house has its own collection of furniture and art, to be enjoyed and cared for by the new tenants.
In the grounds there is a former 'mock' chapel, currently the island's workshop, winter boathouse, further boathouse and landings. On the mainland there is a dry dock boathouse and garage and two boats are provided.
This rare opportunity to experience island life comes as the current tenants move on after 10 years in the property. The house and gardens, owned by the National Trust, have been greatly improved in their tenancy and there is scope for more. Property experts Carter Jonas expect a rental in excess of £40,000 per annum.
"Whilst milk is currently delivered by canoe and you will need to go ashore to reach the bins, or to collect mail, it's a unique way of life for the right tenant" says Helen Lancaster, from agents Carter Jonas in Kendal.
"It does come with mod cons too" explains Helen. "There is mains power and water and oil for the central heating. The house has broadband and internet connections too so it's not an IT black-hole".
Helen adds: "It's a wonderful family home. It takes a special type of person to live in this extraordinary setting. It's beautiful, exclusive house with period furniture and art to be cherished and cared for. We would expect prospective tenants to plan to stay for at least five years and to consider occasional days sharing the house with the wider public."
The property will become available in December, or earlier by arrangement, when the current tenants leave after a 10 year tenancy.