Carter Jonas Welcomes Leading Industry Figure Simon McConnell as Head of Residential Sales in Oxford
Date of Article

Feb 07 2019

Sector

Residential services
Keep Informed
Sign up to our newsletter to receive further information and news tailored to you.
Sign up now
Carter Jonas has appointed Simon McConnell as Head of Residential Sales in Oxford, based out of the firm's Mayfield House branch.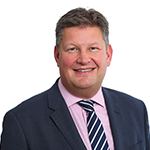 McConnell brings more than 30 years' of residential property experience in the region, having worked for Adkin and as a Director at Thomas Merrifield, where he was based for 20 years having founded the Abingdon office in 1997. Additionally, in July 2016 McConnell was appointed Governor of Christ's Hospital of Abingdon, the oldest of Oxfordshire's charities, helping to oversee the organisation's priorities - including the provision of Almshouses and care and educational support to people in need – and future plans.

In his new role, McConnell will work to expand the residential team's geographical reach as well as the wide range of services it provides to both vendors and buyers. McConnell succeeds Mark Charter who joined Carter Jonas in 1991 and has recently been appointed as the firm's new Head of Rural in Oxford.

Mark Charter, Partner, Carter Jonas Oxford, said: "Simon is extremely well regarded in Oxfordshire with a reputation for providing an exceptional level of service and a commitment to his clients and the community in which he operates. As the residential market evolves, so too must the way in which we support our clients. Simon's understanding of both people and business and how to marry the needs of both will be invaluable as we continue to provide the best advice and most effective solutions to our clients."

Simon McConnell, Head of Residential Sales, Carter Jonas Oxford said: "I am extremely excited to have the opportunity to lead such an established team. I look forward to drawing on my own insight, as well as the knowledge of the wider team to help take our business forward. Being part of a multi-disciplinary property consultancy means we are uniquely placed to draw of different expertise and advice as and when required to ensure truly bespoke customer service. This, as well as our readiness to embrace new methods of working and innovative technologies, helps to set us apart from our competitors as we look to enhance our market share."

Carter Jonas' Oxford office is the firm's largest regional centre outside of London. With teams based out of the hub office in Mayfield House, Summertown, the firm offers a wide range of expertise from across its residential, commercial, rural and planning and development teams together with a number of specialist services.