School Ambassadors Activity
Date of Article

Feb 07 2020
Keep Informed
Sign up to our newsletter to receive further information and news tailored to you.
Sign up now
Our School Ambassadors have been busy attending school events across Birmingham and Cambridge so far this year to talk about careers within the Property Industry.
Dean Hockley attended a careers fair for students in Years 9, 11 and 12 at King Edward VI Handsworth earlier this month, where he spoke to students about the next stage of their educational journey, including work experience and our apprenticeships. The event was well received by students, guests and staff alike:

Quotations from the day:
'It has helped me make some more informed decisions about my future career choice'
'It was really helpful with the different opportunities each university offered and what careers options would be available to me after choosing my A Levels. I also found out about alternative careers that I could do with my A Level options if I decide not to pursue my original career plan.'
Off the back of attending this event the assistant headteacher has offered for us to go back as a firm for future presentations at the school and will be sharing contact details amongst various other schools in Birmingham.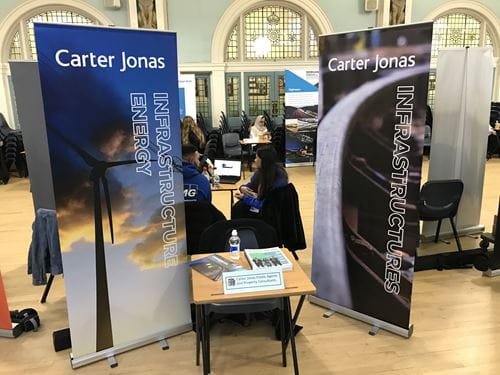 John Mason and Diane Holmes attended Long Road Sixth Form College in Cambridge which was focused on Apprenticeships, there were plenty of other similar firms there - Bidwells, as well as Hill, Mott MacDonald and Aecom. They met two students who want to become estate agents and then spoke to a number of others who didn't know what we do (although many knew where our office was!) explaining what opportunities could be available in Carter Jonas. This is valuable time spent with the College to support our employee branding, promoting Carter Jonas careers, who we are and what we do!