Resolution to grant outline planning permission secured at Earith Business Park, Huntingdonshire
Date of Article

Jul 28 2021

Sector

Planning & Development
Keep Informed
Sign up to our newsletter to receive further information and news tailored to you.
Sign up now
@
Matt is an Associate based in Cambridge and is a Chartered Town Planner with more than 10 years' planning experience in both the public and private sector. Matt's main area of expertise lies in development management and he has prepared and secured planning permission for all types and size of development proposals ranging from householder extensions to strategic residential and commercial schemes. Accordingly Matt's Project Management skills are highly developed with respect to the preparation and submission of planning applications. Matt's past experience in the public sector has meant that he has acted as an Expert Witness at Planning Inquiry and is well experienced with the wider appeals process in general. Matt also has experience working in the field of conservation and thus is able to advise clients in respect of development proposals affecting listed buildings and heritage assets.
I can provide advice on:
Resolution to grant outline planning permission has been secured for around 2,000 sqm of new mixed-use commercial floor space at the Earith Business Park in Huntingdonshire by our planning professionals, who were acting on behalf of Lennox Property Investments Ltd.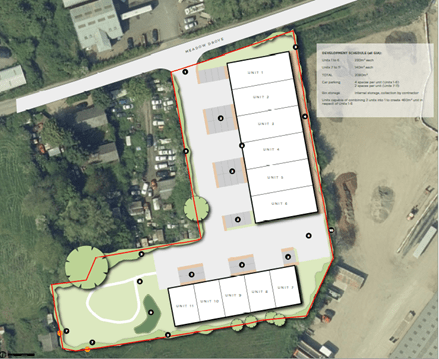 The site falls outside of, but close to, the Earith Business Park 'Established Employment Area' as designated by Huntingdonshire District Council's development plan. Despite falling outside of the designated employment area, we were able to successfully argue that a new commercial development in this location would be sustainable and appropriate. Ultimately, we gained support of both the officer and the Council's planning committee.

We also provided masterplanning services to Lennox Property Investments Ltd and produced the supporting illustrative masterplan that accompanied the application.