New Head of Residential for Carter Jonas York
Date of Article

Jun 23 2020

Sector

Residential services
Keep Informed
Sign up to our newsletter to receive further information and news tailored to you.
Sign up now
@
Lisa Simon heads up our Residential Division, which includes sales, new homes, lettings and property management across our National network. She joined Carter Jonas in 2011. Her twenty years plus experience has been largely in London and the Home Counties working with Landlords and Tenants. Lisa oversees the day to day running of our residential branches and acts as a key contact for some of our portfolio clients. She also runs our corporate services department liaising and promoting our properties to companies and their relocation agents. Lisa resides in West London with her husband and two daughters.
I can provide advice on:
Find me on Linkedin
Carter Jonas has appointed Rachel Macpherson as a Partner and Head of York Residential.
Rachel joined Carter Jonas in 2004, where she built one of the firm's most successful prime central London residential teams in Marylebone & Regents Park.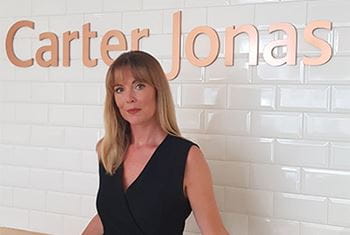 Rachel is a longstanding York resident and was born and raised in Rufforth. She moved back to her hometown two years ago to bring up her two children who now attend her old school. On her return, Rachel joined, and has become an integral member of, Carter Jonas's award-winning York team. Rachel knows and loves York and has a thorough understanding of the sales, new homes and lettings market in the city and its surrounding areas. She has built an exceptional reputation for delivering excellent customer service and results.
Lisa Simon, Head of Residential, Carter Jonas said:
"Rachel has a wealth of experience in the industry and, vitally, a keen eye for detail - this includes a comprehensive grasp of the local market as well as the motivations and day-to-day realities of our clients. Since returning to Carter Jonas's York branch, Rachel has made a significant impact, working to secure many high-profile instructions and sales. She is a valuable member of the team and it is a great pleasure to promote her into this leadership role. Her deep-rooted understanding of our client base, business targets and our ambitions for the future will be invaluable."
Rachel Macpherson, Head of York Residential, said:
"This is a fantastic opportunity to lead one of Carter Jonas's most established teams and build on our already enviable reputation and influence. I was lucky enough to be raised in Yorkshire and it was natural to return to my friends and family after success in London. As restrictions for Covid-19 are lifting, the residential market has become extremely buoyant and it is an exciting time to take on this role. My passion for our business, and Yorkshire itself, will be invaluable as we continue to provide clients with the best advice and most effective results."