Carter Jonas Strengthens Valuation Team with Three New Hires
Date of Article

Jun 04 2019

Sector

Commercial
Keep Informed
Sign up to our newsletter to receive further information and news tailored to you.
Sign up now
@
Three career highlights:
• Valuation of Green Property Company for acquisition purposes
• Valuation of Camden Markets Portfolio for loan Security purposes
• Acting as LPA Receiver on £400m property company prior to its sale
I can provide advice on:
Carter Jonas has enhanced its Valuation team in London with three new appointments, including affordable housing expert, Barry Rea.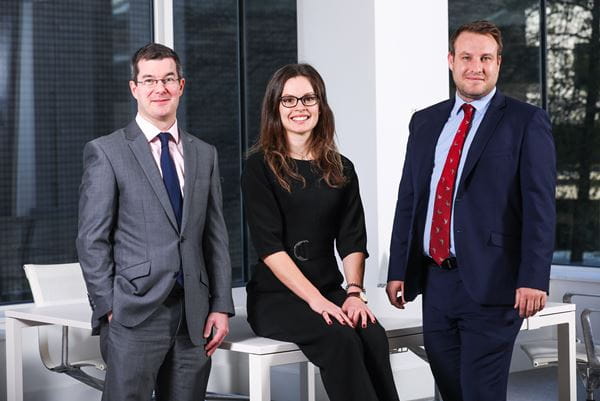 Carter Jonas, new joiners in Valuation team. Left to right: Barry Rea, Lucy-Anne Johnson and Michael Henretty
Barry joins Carter Jonas as a partner, with Michael Henretty and Lucy-Anne Johnson as an associate and graduate surveyor respectively. They are based out of the firm's headquarters, One Chapel Place, and sit within the existing team of national valuation experts led by Dudley Holme-Turner. The trio has enhanced the capacity of Carter Jonas' valuation services to the registered provider sector, banks and developer clients.
With more than 19 years' experience, Barry was previously a director at GL Hearn specialising in affordable housing. He has also held roles at Savills and LaSalle Investment Management and is frequently called upon to advise on litigation and planning matters and financial viability assessments, helping developers to secure feasible planning consents. Additionally, he has been retained as an agent on a number of schemes to dispose of affordable housing units to a registered provider once planning is achieved. Recent projects in which he has been involved include L&Q's Barking Riverside development and Clarion Housing Group's Abbey Wharf project in Brent.
Michael joins from Cushman & Wakefield and brings more than 10 years' valuation experience, from single assets to residential portfolios as well as complex appraisals. He specialises in the London super prime residential market and will work to develop Carter Jonas' capabilities in this area.
Lucy-Anne joins from Lidl where she worked as a property consultant responsible for the management and expansion of the business' property portfolio across Norfolk, Lincolnshire and Suffolk and its national strategy. In her new role, she will concentrate on residential valuation and advisory work primarily working with registered providers.
Dudley Holme-Turner, Head of Valuation, Carter Jonas said: "These are three fantastic appointments that build on the expertise of our existing team and enhance our residential valuation and advisory offering. Barry is a highly regarded expert with an in-depth knowledge of the registered provider market and an extensive network. This, together with Michael and Lucy-Anne's combined experience, is extremely beneficial for our growth strategy to provide a comprehensive range of services across multiple asset classes."