Planning application submitted to expand Phoenix Cycleworks, Newmarket
Date of Article

May 25 2021

Sector

Planning & Development
Keep Informed
Sign up to our newsletter to receive further information and news tailored to you.
Sign up now
On behalf of Stockland Green Ltd, our planning and development professionals in the eastern region have submitted a planning application to expand the cycle shop and café at Phoenix Cycleworks, near Newmarket. The application also includes additional parking and landscaping.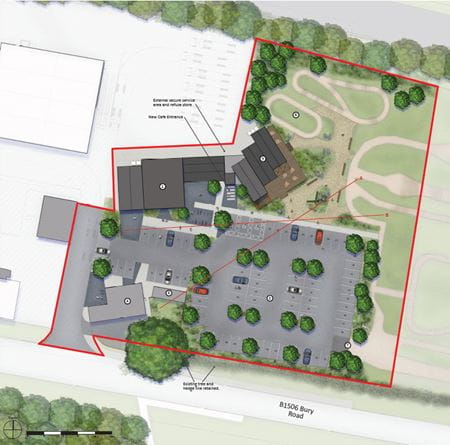 Our planning and building consultancy teams have been involved with the bike park since obtaining the original approval for a café, shop and pump track in 2017. A second permission was secured in 2019 for an additional four hectares of trails, jumps and ramps up to five metres high. The new trails, which opened in 2020, have proved extremely popular following the easing of lockdown restrictions and additional visitor facilities are now needed.

Permission is sought to double the size of the existing café and cycle shop, as well as provide a new cycle hire and repair shop, and increase parking numbers from 50 to 78. The extension is to be constructed of repurposed shipping containers clad in timber, using a striking colour scheme of black and orange, with bold signage and contemporary landscaping. The 'tower' entrance feature will become a local landmark.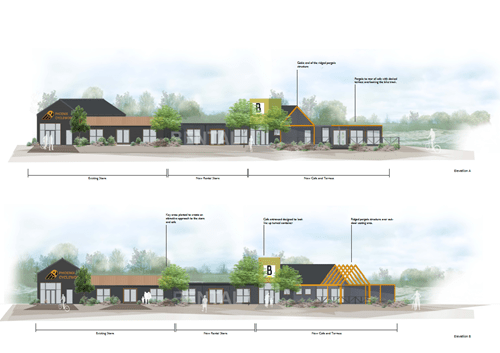 BMX and mountain biking are rapidly growing sports, with freestyle BMX set to be an Olympic sport for the first time in Tokyo this year. Phoenix Cycleworks hopes to capitalise on this growing interest, and potentially help to ensure that a future Olympian comes from the West Suffolk region.

Our professionals hope to work with West Suffolk Council to achieve permission for the expansion and ensure the bike park can continue to cater for its growing number of visitors.
For further information, please contact a member of our team:
Senior Planner
07825 906209