Carter Jonas strengthens public sector and property consultancy & strategy capabilities with new acquisition
Date of Article

May 05 2022

Sector

Commercial
Keep Informed
Sign up to our newsletter to receive further information and news tailored to you.
Sign up now
Carter Jonas has acquired specialist real estate strategy practice, Tomorrow Advisory, welcoming Tom Devine as a Partner and Nicky Visick as a Consultant to its Leeds office.
This development marks Carter Jonas' second acquisition this year, demonstrating its drive to enhance its transactional and non-transactional capabilities whilst bolstering its business presence in key hub locations across the UK.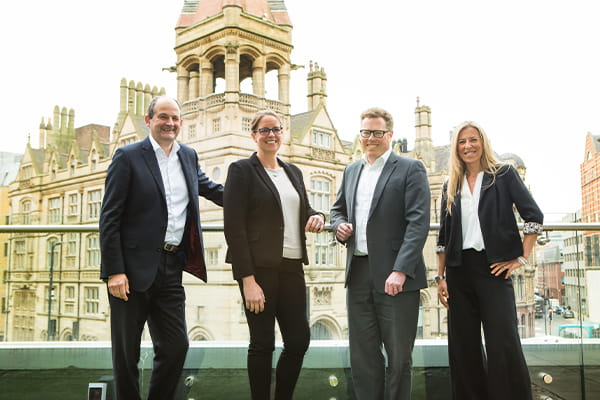 Both Tom and Nicky join Carter Jonas' national Public Sector team, led by Alexandra Houghton, which specialises in consultancy and estate strategy, HM Treasury Business Cases and delivering solutions to meet business needs through estate change. Carter Jonas' Consultancy and Strategy team advises a number of local authorities across the country including Hertfordshire, Buckinghamshire, Essex, LB Ealing, Scarborough, and Warwickshire, as well as other public and third sector clients such as The British Library, RSPCA and several central government departments.
Tom and Nicky have earned a reputation as leading strategic real estate surveyors to public and third sector occupiers in the North of England. The pair work with clients including charities, local authorities, non-departmental government bodies and central government, providing advice at critical points in the property lifecycle. Their track record includes mandates with Science Museum Group, Durham County Council, Greater Manchester Police and several Higher Education Institutions, including the University of Manchester, the University of Salford and the University of York.

Tom established Tomorrow Advisory in 2010. He has over 20 years of experience in the sector and was previously Head of Strategic Consulting at Drivers Jonas in the North. Earlier in his career, he worked for Donaldsons and Knight Frank. Nicky, also with 20 years of experience, has a particular focus on Yorkshire and the North East. She previously held roles in the occupational agency and capital markets team at Gerald Eve LLP as well as at Sanderson Weatherall and JLL.

Alexandra Houghton, Head of Public Sector, Carter Jonas, said: "Tom and Nicky bring a wealth of experience to our team operating throughout the country. They have extensive knowledge of the regional and national markets and of the pressures facing public bodies to improve efficiencies on property holdings and deliver robust and sustainable estates. Our combined expertise reinforces our position as a UK-wide consultancy providing services and insightful, concise and deliverable advice to our clients."

Scott Harkness, Head of Commercial, Carter Jonas, said: "It is a pleasure to welcome Tom and Nicky to Carter Jonas. This acquisition is a significant addition to our commercial team and the wider business and closely follows our purchase of McGuiness Waddington Real Estate in March. These investments underline our commitment to strengthening all principal areas of our business, including our consultancy services, to deliver a stronger and broader offering to clients."

Tom Devine said: "Nicky and I are delighted to be joining Carter Jonas and its Consultancy and Strategy team. We look forward to being able to offer our clients an even stronger service and care, supported by the full range of services that Carter Jonas provides including valuation, building consultancy and development advice. I'm also thrilled to be working with Alexandra Houghton again, having worked with her previously in 2003 – 2005."