Development of eight residential apartments at Wendens Ambo
Date of Article

Nov 02 2021

Sector

Planning & Development
Keep Informed
Sign up to our newsletter to receive further information and news tailored to you.
Sign up now
@
Matt is an Associate based in Cambridge and is a Chartered Town Planner with more than 10 years' planning experience in both the public and private sector. Matt's main area of expertise lies in development management and he has prepared and secured planning permission for all types and size of development proposals ranging from householder extensions to strategic residential and commercial schemes. Accordingly Matt's Project Management skills are highly developed with respect to the preparation and submission of planning applications. Matt's past experience in the public sector has meant that he has acted as an Expert Witness at Planning Inquiry and is well experienced with the wider appeals process in general. Matt also has experience working in the field of conservation and thus is able to advise clients in respect of development proposals affecting listed buildings and heritage assets.
I can provide advice on:
Carter Jonas' Cambridge planning team were instructed by the Guster Group (a longstanding client) acting on behalf of Mill House Court Ltd to submit and manage a written representations appeal against a refusal by Uttlesford District Council to grant planning permission for the development of a block of eight residential apartments at Wendens Ambo, Saffron Walden in Essex.
Following a lengthy planning application process and a refusal based upon alleged heritage impacts, an appeal was submitted in October 2020. The appeal decision was allowed in October 2021 granting planning permission for the scheme. Following the Inspector's assessment of appellants' statement of case it was concluded there would be no unacceptable harm to designated heritage assets.

Carter Jonas had also applied on behalf of the client for a full award of costs, which was subsequently allowed. In the costs decision, the Inspector concluded: 'I consider that the Council's case has not indicated that a thorough and balanced assessment has been undertaken…The submissions indicate a confused, confusing and inaccurate assessment which lacks the necessary rigour.' The Inspector further stated, 'the Council has sought to prevent and has delayed development which should reasonably have been allowed…this has incurred unnecessary expense and delay which the appellant should not have had to incur'.

The brownfield site is in a highly sustainable, high demand location, located close to Audley End railway station on the London to Cambridge line. The proposals are for a high-quality development which we look forward to coming to fruition.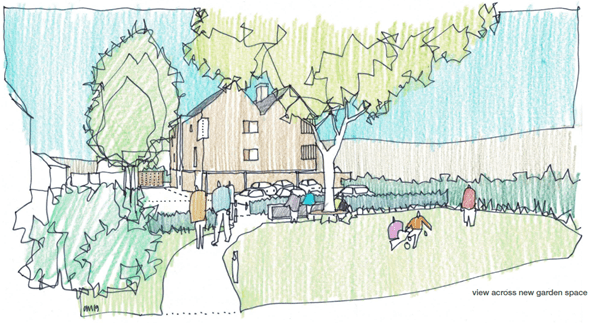 (Image source: Moses Cameron Williams Architects, taken from Design and Access Statement)