Planning Application Submitted for a New Humanities Building at the Radcliffe Observatory Quarter, Oxford
Date of Article

Nov 30 2021

Sector

Planning & Development
Keep Informed
Sign up to our newsletter to receive further information and news tailored to you.
Sign up now
On behalf of the University of Oxford, Carter Jonas' Planning Team for the South and South West has submitted a Planning Application to Oxford City Council for a new Humanities Building at the Radcliffe Observatory Quarter.
The submission follows a thorough period of pre-application engagement with Officers of the City Council and key stakeholders, as well as two rounds of public consultation with local residents and community groups.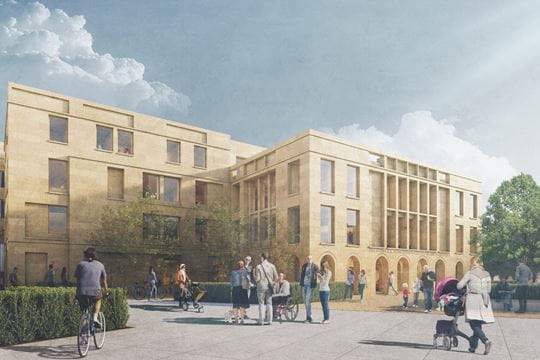 The Humanities Building will house the faculties and libraries of the Humanities at the University of Oxford. It will bring together, for the first time, seven Humanities faculties and six libraries, a high-profile new Institute for Ethics in AI, the Oxford Internet Institute and a number of research centres and facilities.

The new Humanities Building will also provide a new concert hall, theatre, exhibition space and spaces for performance and public engagement. It will be a new destination for visitors and residents in Oxford. The Humanities Cultural Programme will also transfer into the new Humanities building. The aim of the programme is to engage and collaborate with partners to facilitate knowledge exchange and to bring world class musicians and other performers to Oxford to perform in the Concert Hall and other venues in the new building. The new Humanities building will serve as a hub for contact to the University for artists, performers, and members of the public wishing to learn, explore and engage in a variety of ways.
The existing partnerships that have been forged with local, regional and national groups ensure that the proposals for the new Humanities building are complementary to, and will not compete with, the alternative venues and destinations already existing within Oxford city centre. The new Humanities Building will meet the challenge of providing a welcoming, delightful and collaborative environment for a range of users.

The planning application is anticipated to be determined in Early 2022.
For further information, please contact a member of our team:

Stephanie Weeks
Associate Partner
07826 867328
stephanie.weeks@carterjonas.co.uk