Planning permission secured for additional guest accommodation at the Beaverbrook Hotel
Date of Article

Nov 02 2021

Sector

Planning & Development
Keep Informed
Sign up to our newsletter to receive further information and news tailored to you.
Sign up now
@
Peter is a chartered town planner with over 30 years experience. He was a graduate at Healey and Baker and a Director of DTZ. He set up Planning Perspectives in 1997 which was bought by Carter Jonas in December 2014. He provides planning and development advice to private sector clients (including landowners, occupiers, developers and investors) to help unlock the potential of difficult sites and maximise the value of complex mixed use schemes and regeneration opportunities. He has experience in the retail sector having secured permission for - 1.5 million sq ft of food retail floorspace and 750,000 sq ft of on-line distribution space; a business park; industrial and distribution schemes; HQ office buildings; hotels, and educational buildings. He advises a number of golf clubs and has recently obtained permission for a major golf course and luxury hotel. In terms of residential development he is promoting a strategic allocation and has obtained permission for a retirement village, small housing schemes and numerous private houses. He has worked on a number of highly constrained sites, including obtaining permission for a large foodstore on a listed quayside within a World Heritage Site. He has advised on a number of developments involving listed buildings or located within the Green Belt, AONBs and Conservation Areas.

Outside the office Peter is to be found on Woking Golf Course (or any other quality course he has not played previously). He is on the Golf Committee of the Lord's Taverners and a supporter of Harlequins RFC.
I can provide advice on:
Beaverbrook Hotel, near Leatherhead, 10 years after getting permission for the hotel (referred to as 'The House') health club and Spa, restaurants, cookery school and golf course.
Over the past few years Beaverbrook has received high praise from many international travel writers and hotel and restaurant writers, with Condé Nast including it in its 'Hot List' of most exciting places to stay.

To complement the existing guest rooms, the former workers' cottages at Mickleham Downs are to be redeveloped to provide 21 rooms that are able to accommodate groups and families of all sizes in slightly less formal surroundings, but without conceding any of the luxury.

The cottages are set around a central courtyard and offer a separate dining room and shared family room which is ideal for entertaining. A short distance up the valley, permission has been granted to extend the Dower House to create a 5-bedroom guest house for those seeking a little more privacy.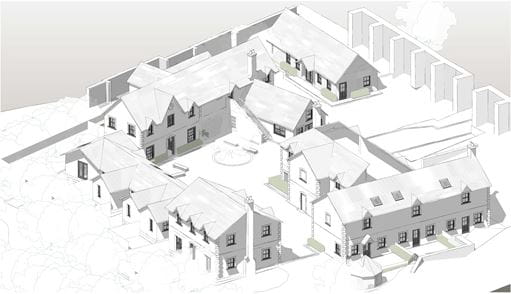 Great effort has been put into the development's energy and thermal efficiency and other sustainability credentials, whilst maintaining the architectural aesthetic of the original cottages that are to be replaced. Even the link to, restaurants and spa will be via electric buggies that will pass through the ancient yew trees and along the original estate drive which sweeps up to the House. It is hoped that the new accommodation will be opened in 2023.