Carter Jonas Appoints Mark Talbot as New Head of Telecommunications
Date of Article

Oct 17 2018

Sector

Advisory Services & Sectors
Keep Informed
Sign up to our newsletter to receive further information and news tailored to you.
Sign up now
@
Mark Hall-Digweed heads the Infrastructures department, where he has developed the team to deliver project management, land agency and property consultancy services to utility, public sector bodies and civil engineering organisations. The team is very successful and has grown to attract large clients such as Network Rail. Mark was also appointed in 2010 to lead Carter Jonas's cross divisional Public Sector Group, where he is responsible for developing clients with complex multi-faceted requirements.
Marks primary skills include multiple site management, high level negotiation and dispute resolution, programme management and the implementation of new systems, estate management, as well as compulsory purchase and compensation work. He has high levels of experience in all of the above.
I can provide advice on:
Find me on Linkedin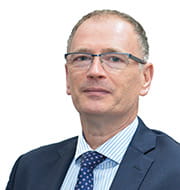 Carter Jonas has expanded its Infrastructure offering appointing Mark Talbot to a new role as Head of Telecommunications.
Mark, who will be based centrally working out of the firm's Birmingham office, joins from Arqiva where he spent over 20 years dealing with the strategic acquisition, integration, development and management of operational and corporate infrastructure assets; most recently holding the position of Head of Estates & Property. Mark has overseen the doubling of the Arqiva portfolio and the development and implementation of new technology in building and street-level installations.
Mark is also Chair of the Royal Institution of Chartered Surveyors (RICS) Telecoms Forum Board, a role he has held since 2009. The board focuses on the objective of the RICS Charter, promoting the profession to the benefit of the general public and liaising with government ministers, advisors, civil servants and regulators, helping to shape policy, respond to industry consultations as well as providing professional guidance.
In his new role, Mark will work closely with colleagues in Carter Jonas' Commercial, Planning, Development, Rural and Residential teams from across its 37 offices assisting clients to develop strategic thought leadership and manage effective telecommunications strategies across operational and corporate assets.
Mark Hall-Digweed, Head of Infrastructure, Carter Jonas, said:
"Telecommunications is a rapidly evolving sector, however, more often than not it is considered in isolation, removed somehow from a location's wider infrastructure requirements. At Carter Jonas, we have adopted a more comprehensive and integrated approach for our clients, one that utilises the vast expertise and knowledge from across our firm's sector specialisms. Mark's appointment will further enhance this bespoke service, from the planning and acquisition stages through to scheme delivery and ongoing maintenance.
"As a leading industry figure with an exceptional track record, Mark brings a wealth of experience to this new role. Additionally, his commercial acumen and extensive business network will be invaluable as we continue to grow our market share in this area."
Mark's appointment is another significant step in the development of Carter Jonas' Infrastructure team. In October last year, the business expanded its operations in Birmingham after opening its first office in the city in September 2016. The team is involved with the progression of a number of flagship infrastructure projects working with clients including HS2, Network Rail and National Grid. Over the past 12 months the team has more than doubled, increasing in size to over 70 people and offering Infrastructure and Energy, Mapping and GIS services.