Carter Jonas awarded gold accreditation for inclusion and diversity best practice
Date of Article

Oct 11 2023
Keep Informed
Sign up to our newsletter to receive further information and news tailored to you.
Sign up now
Carter Jonas has successfully achieved the Clear Assured Gold Standard for its commitment to inclusion and diversity in the workplace.
The Clear Assured Gold Standard, from assessment body the Clear Company, is a globally recognised accreditation which is awarded to organisations that can evidence integration of inclusion and diversity DEI measures across all areas. This includes policies, practices, and strategies.
In achieving Gold standard Carter Jonas is recognised for its leadership and understanding of pertinent issues. Its team's support for underrepresented groups is integrated into all aspects of its ED&I activities. Notably, Carter Jonas's commitment extends beyond mere initiatives, encompassing a continuous learning process marked by a receptive approach to feedback. This dedication translates into a meaningful and lasting impact.
Claire Matthews, Head of HR, Carter Jonas said:
"
Achieving Gold accreditation is an incredible milestone for Carter Jonas, reflecting the passion of our people and our leadership to support and instigate change in our business and the wider industry.

"We have made great strides since 2021, when we signed up with Clear Assured, committing to diversity and inclusion in our workplace by continuing to enhance our policies and approaches, shifting our culture for the benefit of all.
"
Anna Mäkinen, Head of Clear Assured, said:
"
We proudly bestow the Clear Assured Gold Standard upon Carter Jonas in recognition of their exceptional dedication to fostering inclusivity and diversity within their workplace. Carter Jonas's remarkable efforts to embed and elevate DEI practices throughout their organisation are truly commendable, and their progression from the previously attained Silver Standard in 2022 is a testament to their unwavering commitment.

"This remarkable achievement signifies a significant juncture in their journey towards inclusivity. It's a reflection of the collective dedication demonstrated by its team over the years, showcasing their resolute resolve towards this cause. It is evident that DEI has become an integral part of their day-to-day operations, with policies and procedures that seamlessly align with and bolster the strategic direction at Carter Jonas. This recognition underscores the consistent hard work and devotion that they have invested in creating an environment of inclusiveness and equity.
"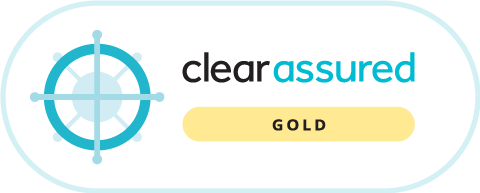 About The Clear Company
The Clear Company is an award-winning global Diversity, Equity and Inclusion (DEI) consultancy providing expertise via audit, learning interventions and innovative solution such as Clear Assured. Clear Assured is a subscription-based platform and recognised accreditation that measures progress against all areas of DEI – designed to help organisations have access to best practice and advance their inclusion goals.
To find out more please visit: theclearcompany.co.uk