Glamping businesses win over the hotel trade throughout lockdown
Date of Article

Sep 08 2022

Sector

Farms, estates & rural leisure
Rural Leisure
Our experts have a proven track record for the valuation, sales and professional advice to leisure operators
FIND OUT MORE
Keep Informed
Sign up to our newsletter to receive further information and news tailored to you.
Sign up now
@
Stephen Richards heads up the Carter Jonas leisure team, with over 20 years' experience in the valuation and sale of holiday cottages, lodge parks, campsites, caravan parks and glamping businesses.
I can provide advice on:
The pandemic fuelled the market for glamping businesses and, in 2022, this trend has continued as people opted for the outdoors over city centre locations.
The self-catering industry, including holiday cottage complexes, pods, yurts, lodge complexes, camping sites and the static caravan market have also done extremely well. It's the nature of these types of accommodation which has made them popular over the last couple of years – the fact their self-contained, rather than having communal bars, dining rooms and hallways as a hotel would do – appeals to those that are still conscious of social distancing.


Will the preference for glamping businesses continue?
Pitchup.com, one of the main camping and caravan websites, has reported a 200% increase in bookings during the early part of 2022 – even before the peak camping season would traditionally have started. Glamping businesses are starting to open during the low-season, as many luxury glamping units have heating and private en-suite facilities, meaning they can offer comfortable accommodation even in the colder months.

Stephen Richards, Head of Rural Leisure for Carter Jonas, comments: "The Covid-19 pandemic fuelled the staycation and we saw lots of new glamping businesses opening up across the country. Obviously there will be winners and losers from this rapid expansion. The most popular glamping unit is the 'pod' due to the fact they are weatherproof and require minimal maintenance versus a yurt or bell tent. Due to the average price of a pod, they are popular with families and couples. A rural location is popular as people want to escape to the country and avoid the highly populated areas.

"Luxury glamping units with en-suite facilities, electric, heating and cooking facilities are extremely popular and are competing well against the en-suite hotel bedroom. The unique stays fuelled by Airbnb such as treehouses, geo-domes, shepherd's huts and converted former boats or railway carriages have made glamping accommodation popular and the more unusual they are, the better they are for Instagram posts and family photos.

"My prediction is that the luxury glamping units will remain popular over the next couple of years and the lower-grade glamping units may struggle if there is oversupply."


What is the market like for buying a glamping business for sale?
The market for glamping business for sale has been extremely good and most sites that we have been selling have resulted in competitive bidding as the demand for self-catering businesses still seems to be growing.

Stephen Richards, Head of Rural Leisure for Carter Jonas, comments "We are still receiving numerous enquiries for land to start a glamping business with existing businesses looking to purchase additional land for this type of development.

"We are also giving existing clients advice on adding these types of units to their existing businesses – a diversification which makes perfect sense to provide additional income for already established holiday cottage complexes, lodge parks or campsites."


The best glamping business for sale
Forest Edge is an established glamping business in the heart of the East Devon countryside, just seven miles from the coastline. It's made up of 10 furnished bell tents, each with their own firepit.

Guide price £525,000 | Under offer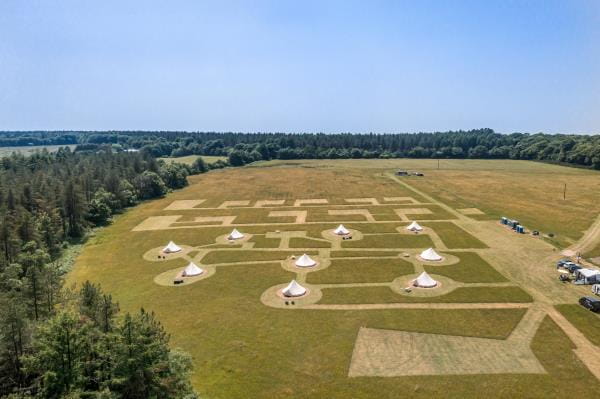 View all leisure properties for sale >

For more information, contact Stephen Richards, our head of rural leisure, on 01823 230903 or stephen.richards@carterjonas.co.uk.