Refloating the Arc
Section 3 – where could growth be delivered?

Refloating the Arc is a detailed report produced by our research specialists, in collaboration with our regional property professionals.

Within the third section of the report, we address where growth could be delivered within the region.

We consider which type of locations should be prioritised and analyse the strengths, weaknesses, potential and constraints for each.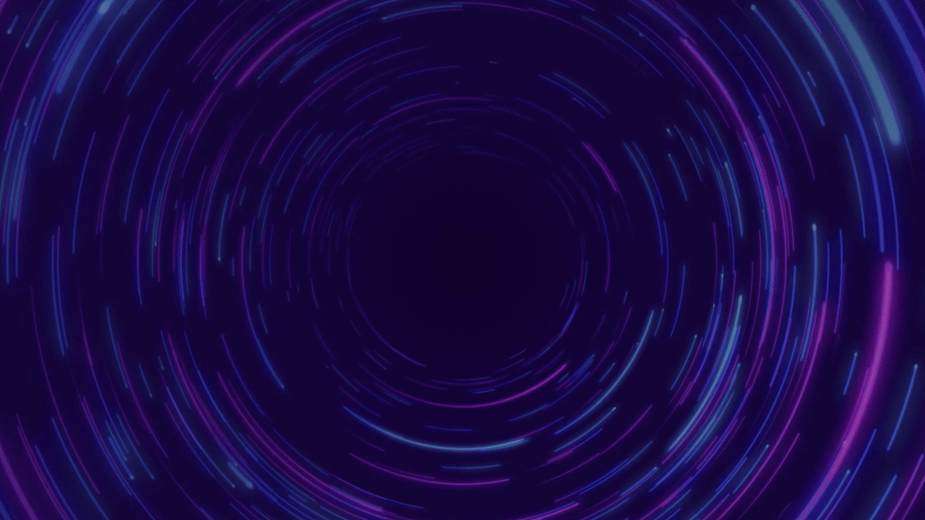 In sections 1 and 2 of our research, we underlined the need to increase the rate of development to support growth and other economic and social objectives for the key locations within the Arc.
Whilst a lack of synergy/agreement between local authorities and anti-development attitudes in some areas may be holding back progress, the most important constraint is a lack of development land coupled with inadequate land release. A key consideration is therefore how and where this should be delivered, overcoming the barriers to development. This is one of the major objectives of the Arc concept.
However, there are a number of ways in which this could be delivered, which are considered below.
What type of locations should be prioritised?
We have identified four strategic options to increase delivery. Each of these has benefits and disbenefits, and they should not be seen in isolation, as we consider that all will form part of the solution, although some are likely to merit a greater emphasis. The huge amount of change currently underway, particularly in terms of the way we work and the planning context, will also present opportunities. The four options are:
Intensification
Increasing development within the Arc's main city centres through intensification and change of use. Although attitudes to city living may shift as a result of COVID-19, living and working within high quality centres such as Oxford and Cambridge will remain highly desirable, in order to access amenities, services, transport and leisure activities. Whilst desirable, the potential for intensification is highly constrained, particularly given the historical nature of Oxford and Cambridge city centres. However, the way urban land is used is likely to undergo rapid change over the next few years. Less retail space will be demanded as online retailing continues to rise; and existing office occupiers reduce the amount of space as a proportion of the current level of enforced remote working becomes permanent. This will create opportunities to repurpose land and property for residential, and for new office space to be created.


Figure 13 illustrates the density of buildings as a heatmap within the Arc and highlights the very small spots of the highest density in the key centres. In light of the projected changes to intensification, these red dots may become less dense although may potentially become more widespread as current buildings are re-purposed to mirror changing demand patterns.
Figure 13: Local Authority planning application density map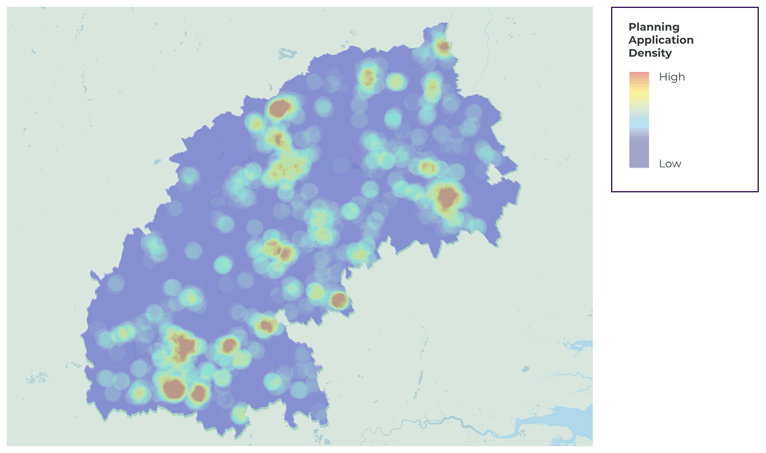 Source: Glenigan

New edge-of-town development
The Government's White Paper 'Planning for the Future' was published in summer 2020, setting out a significant package of reforms. One of the most fundamental is a shift towards a zoning-style system, including protected areas such as the Green Belt, where development will be restricted. However, this will not stop Councils from removing land from the Green Belt to facilitate new development if that is the right and most sustainable option. This will only occur if other options have been rejected (with good reason) although importantly the White Paper does not mean there can be no future Green Belt releases. This may be a potential significant opportunity, as there is a limited supply of brownfield land around the main Arc centres, particularly Oxford and Cambridge, and edge-of-town development is arguably one of the best ways to increase development in the Arc.
Figure 14: Green Belt areas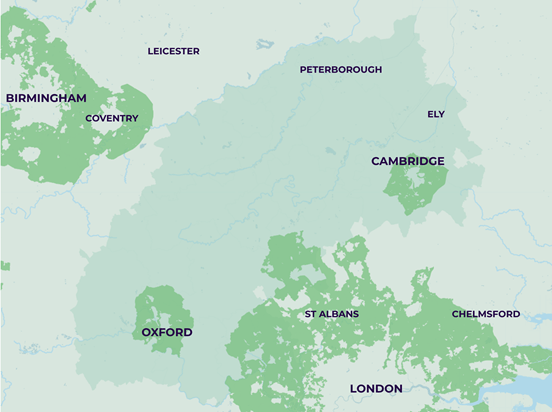 Source - Ministry of Housing, Communities & Local Government
EXPANDING EXISTING OUT-OF-TOWN LOCATIONS
The rail-connected locations within the Arc are the obvious locations which should be enhanced, for example Culham (South Oxfordshire) and South Cambridgeshire. Both local authorities have sizeable residential planning pipelines, in excess of 8,000 units, each which correlates with the proposed new rail links planned.


There could be increased development at other out-of-town locations. Harwell, for example, could accommodate significant expansion. However, there will be question marks over whether these locations meet the Environmental, Social and Governance (ESG) needs of occupiers and employers. Occupiers will still want to locate where there is an agglomeration of sector specialists, and this will be an overriding factor.


The Oxford Science Park has planning consent for a new landmark scheme collectively totalling 168,000 sq ft within two buildings. This is sited opposite the proposed Cowley branch line station, although its development is not predicated on the rail scheme being progressed.
Sustainable transport into cities is critical. Improved local transport into city centres is at least as important as transport between them. Sustainable transport to the business / science parks will be vital for their continued success. The Cambridge guided busway has been highly successful and provides strong evidence that this concept works. In addition, CAM Metro is currently being planned in Cambridge and may give rise to, and support the next wave of development.


Development along the proposed corridor is one of the main objectives of the Arc concept, and there are opportunities to create new or significantly increase existing settlements, particularly Sandy, St Neots and Cambourne. Huntingdonshire has circa 2,600 residential units with planning permission within their pipeline. It will however be critical that new infrastructure is delivered to ensure developments in these locations function in sustainability terms and do not merely become dormitories with added road pressure from commuting.
Making greater use of existing transport corridors
There are several existing transport corridors that intersect the Arc (generally north-south rather than east-west). We believe these present significant potential for expansion. We examine these options in more detail in the next section.
Summary of the strengths, weaknesses, potential and constrains of the different types of location for both commercial and residential sectors:
@
@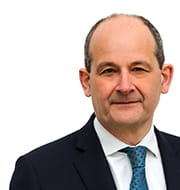 Scott Harkness
MRICS
Partner - Head of Commercial Division
020 3993 8757
email me
about Scott
@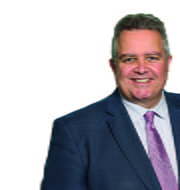 Colin Brown
MRTPI
Partner - Head of Planning and Development Division
01223 326826
email me
about Colin
@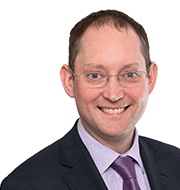 Daniel Francis
Head of Research
020 7518 3301
email me
about Daniel
Scott specialises in providing advice on agency and development matters to a wide variety of clients from private individuals and trusts through to property funds, institutions, companies and statutory authorities. He advises both owners and occupiers across public and private sectors.
Working at Board level with clients, Scott's specialist areas include Business development, development of property strategies, property investment advice, advice in the marketing and disposal of property as well as property acquisitions.
Scott has a particular knowledge and understanding of the property market in the wider Oxfordshire region whilst also operating on a national basis on specific projects.
I can provide advice on:
Colin is a Partner and was appointed Head of Planning & Development Division in November 2020, he is based out of our Cambridge office. He has over 25 years' experience of planning consultancy and has a broad sphere of work. He acts for a wide range of private, institutional and developer clients and has worked on significant planning applications and appeals.
He regularly instructs Counsel, and has appeared at a number of Local Plan examinations and in Section 78 and other appeals where he has often given evidence. He carries out much land promotion work and has a strong track record of delivering planning consents taking projects through their entire process from site identification to construction on site.
Away from work, Colin is Chairman of the Cambridge Forum for the Construction Industry and of the Cambridge branch of networking group, Interact. He is also Chairman of the Dining Rights Committee at the Hawks' Club, a sporting club in the City for Cambridge University sportsmen. He is a regular, if poor golfer, a keen cyclist and a committed, but somewhat less dangerous skier than he once was.
I can provide advice on:
Daniel Francis has been Head of Research at Carter Jonas since 2018. He is responsible for delivering the firm's programme of market and topic-based research, providing clients with the insight they need. Daniel's main focus is the commercial market, and he works closely with his rural and residential research colleagues.

Daniel is a member of the Investment Property Forum and the Society of Property Researchers.
I can provide advice on: