What to consider when looking for a caravan site for sale
Date of Article

Mar 31 2021

Sector

Farms, Land & Estates
Keep Informed
Sign up to our newsletter to receive further information and news tailored to you.
Sign up now
@
Stephen Richards heads up the Carter Jonas leisure team, with over 20 years' experience in the valuation and sale of holiday cottages, lodge parks, campsites, caravan parks and glamping businesses.
I can provide advice on:
What is a caravan site?
A caravan site has evolved over the years. In the past it would have been very simple, each pitch being an individual area of grass.
Nowadays, caravan sites come in a variety of forms. At the smaller end, they'd offer around 40 pitches for tents, caravans and motorhomes – the larger ones might offer up to 200, with this number depending not only on space, but on the licence that is provided by the local authority.
All sites would typically offer a toilet and shower block and would have some form of owners or managers accommodation. On top of that, the amenities vary. Some have outdoor play areas, pools (indoor and outdoor), a bar or restaurant and other activities.
The best-equipped sites would also offer fully-serviced pitches, meaning that each caravan or motorhome has access to their own electricity and water, and have a solid surface (often gravel) to park on, meaning that they can be used all year round and unlike grass pitches, do not need to be rotated. At the other end of the scale, some sites offer wild camping as an opportunity to get back to nature – these would have no electricity, compost toilets and have no facilities. Between these, there is a full range of options, meaning there is something for every level of the market.
Finally, some sites would offer some glamping in addition – this, similarly to the fully-serviced pitches – take time and money and set up, so would often be added gradually to develop a site.
What is the market for selling a caravan site?
The market for caravan sites has changed, with the popularity of motorhomes having increased in recent years among a larger audience, and with the Covid-19 pandemic having given a boost to the UK holiday industry.
This has, in turn, meant that the market for buying and selling caravan sites is strong at the moment.
There are two key types of buyer for a caravan site for sale – individuals looking to get into the industry and run a business, perhaps in conjunction with a lifestyle change, and more corporate occupiers who are already running similar sites across the country and are looking to add to their portfolio.
The key difference between the two buyer types is that the private buyer will be likely to place larger importance on the owner's accommodation, which needs to offer comfort as well as a level of privacy from the business.
Whilst a corporate operator will value good quality accommodation to assist with recruitment and retention of a good manager to run the park, their expectations will be different, as will their approach to sites where the house, reception and shop are all combined in one building.
Considerations when looking at a caravan site for sale
Location, of course, is key, with sites near the coast being the most popular for visitors.

On a very practical note, although a hilly area offers fabulous and far-reaching views, they are not ideal for caravan and camping sites due to the inclines that will inevitably impact on the comfort of the pitches. There are ways to level sites, but it will add to the set-up cost of the site.

A site with amenities, good security and ample serviced pitches will allow you to hit the ground running once you've purchased but will come with a higher price tag so while these will appeal to some buyers, others may choose to opt for a site that can be improved or expanded, in order to increase capital value.
Caravan sites for sale

Caravan sites for sale in Devon
We have recently sold Higher Shorston Lakes in Devon (shown above), a holiday lodge business one mile from Holsworthy and 9.5 miles from the coast. As well as a Caravan & Motorhome Club certified site, it has three detached holiday letting lodges, two fishing lakes and a nature wildlife lake, and a detached 2/3 bed owners' lodge, all set in 9.48 acres.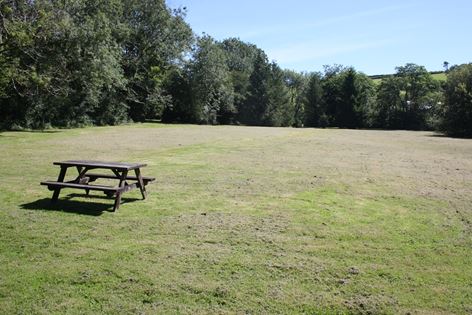 We've also recently completed on Home Place Farm, which is an established holiday letting business in a unique location within walking distance of the village facilities of Challacombe in Devon. As well as a camping and caravan site, it also had a four-bed farmhouse, four holiday cottages, two B&B rooms, and a spa facility with swim spa, all set in 4.24 acres with paddocks, gardens and lake.
Caravan sites for sale are often not publicly marketed, so it's always worth registering your interest with an agent.
Thinking of buying or selling a caravan site?
Find out more about our leisure team, or get in touch with Stephen Richards, our head of rural leisure, or browse all leisure property for sale on our property search.