Westminster College
Cambridge

Client

Westminster College

Sector

Architecture & Building Consultancy

Location

Cambridge

How we helped
@
Stephen is an Architectural Technologist and is based in the Cambridge office.
I can provide advice on:
The Carter Jonas Architecture & Building Consultancy have recently completed the renovation of the dining hall at Westminster College,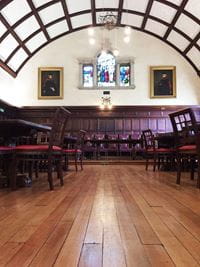 Cambridge. The works involved the cleaning of the internal stonework to the dining hall, repairs to the roof, leadwork, replacement of damage bricks and repointing works to the Grade II Listed building. Value £30k. This is the latest of a number of projects carried out for the College.

The Carter Jonas Architecture & Building Consultancy team were appointed by Westminster College, Cambridge to provide advice on historic water ingress to the dining hall at the college and staining to the internal stonework.

We visited the property and carried out an inspection both internally, externally and of the roofs and found a number of issues that needed to be addressed to resolve matters.

The parapet gutters to the roof were found to be under sized and in times of heavy rain overflowed causing the staining to the internal stonework walls.
Some leadwork was in need of repair/replacement, joints to external stonework was weathered and required re-pointing and some facing bricks required replacing due to frost damage.

As the college is a Grade II Listed building we liaised closely with the Conservation Officer to agree a schedule of works and suitable repairs appropriate to the building.

Due to the Planning restrictions we were not able to change the profile of the parapet gutters but instead introduced new lead overflow spouts to the outside to help discharge water away from the building at times of heavy rain and to prevent overflowing.

Leadwork was repaired and replaced and an additional flashing provided. External stonework was re-pointed in a suitable lime mortar and frost damaged bricks carefully cut out and replaced with new to match.

Internally, in liaison with a local stonemason and the Conservation officer, the stained stonework was cleaned using a 'French drag' tool. In addition to the water staining the stonework had become very dark and following cleaning was brought back to its full glory.

We monitored the works carried out by a local builder and stonemason to ensure the quality of the works on behalf of the client.

The works were completed on time just before a large College function and many positive comments received on the finished result and a successful project.