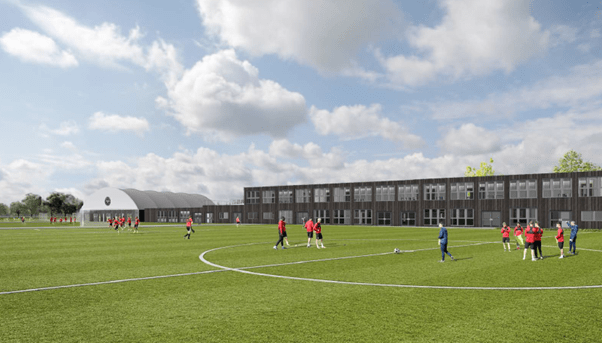 Jersey Road
Royal Borough of Hounslow

Client

Brentford Football Club

Sector

Planning & Development

Location

Royal Borough of Hounslow

How we helped
Carter Jonas has been providing planning advice to Brentford Football Club with respect to the training facilities at Jersey Road in the London Borough of Hounslow since 2015. The Jersey Road site extends to 19 hectares and is located on Metropolitan Open Land (MOL).
Since 2015, the London planning team have helped secure a series of planning consents for the redevelopment of the training facilities on the site. As the site is located on MOL, for planning permission to be grated, it is necessary for very special circumstances to be demonstrated.
In August 2020 planning permission was obtained for the demolition of some of the existing buildings on site along with the construction of a part two storey, part single storey training facility, which included the Club's offices. The permission also included separate ancillary buildings and structures, as well as an artificial 4G playing pitch and an enlarged area of car parking. It was recognised that very special circumstances existed to outweigh any harm to the MOL, including the compelling need for the facilities and the lack of available alternative sites. At the time of this application, the Club remained in the Championship League.
As the Club gained promotion to the Premier League for the 2021/22 season, this increased the requirements for the training facilities at Jersey Road, including the need for a Football Academy, meaning that the extant permission for the redevelopment of the training facilities was no longer deemed fit for purpose.
The team were involved in pre-application discussions with the Council, the Greater London Authority (GLA), and Sport England as well as with local residents and interest groups on concept proposals for a premier league standard training facility. The team led the Club through the planning process advising on the challenging issues involved with achieving permission on MOL.
The team helped to secure full planning consent in August 2022 for a new temporary training facility at Jersey Road for a period of five years. The temporary training centre is designed to accommodate the 1st team, B team and Category 4 Academy Under 18's team. The new training facility, whilst temporary, is of a much higher standard and represents a significant improvement on what exists at Jersey Road. It will act as a stepping-stone towards the Club's longer-term vision for a state-of-the-art performance centre. The temporary training centre was occupied towards the end of 2022.