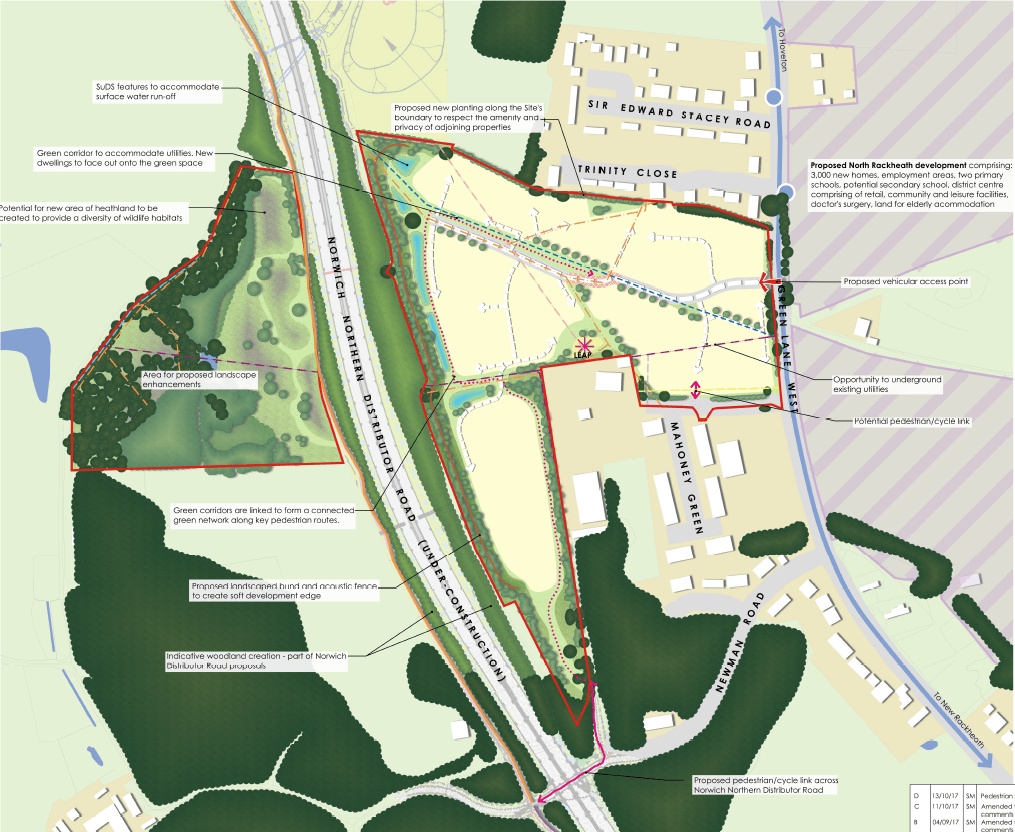 Land at Green Lane West, Rackheath
Rackheath

Client

Taylor Wimpey Strategic Land

Sector

Planning & Development

Location

Rackheath

How we helped
@
Richard is a Partner within the Carter Jonas' Eastern Region Planning Team. His planning expertise covers residential, commercial and mixed-use projects, with involvement in the submission and delivery of major planning applications, Environmental Impact Assessment (EIA) preparation, site appraisals, planning appeals and site promotions through the Local Plan process.
I can provide advice on:
The site was outside the settlement boundary, non-allocated and greenfield in status. However, the site was relatively unconstrained, it lay in a sustainable location that would be further enhanced by a new settlement on the edge of the village, and we were aware that the Local Planning Authority was taking a positive approach to boosting the supply of housing in its area.
We developed a planning strategy with the client, supported by key recommendations, and subsequently implemented this through the preparation of an outline planning application for 205 homes. This was assisted by a technical evidence base, in accordance with the LPA's validation requirements. Working with the client's Engagement Consultant, we undertook local consultation, including a Parish Council meeting and canvassing residents. This work resulted in a 'no objection' response from the Parish Council during the planning application, and comments from only four residents. During the process, we developed a positive relationship with the Local Planning Authority, through a number of pre-application meetings, regular updating and acting on issues raised. The planning application was recommended for approval by the case officer, and unanimously supported by members.
We have worked very closely with the Carter Jonas' Planning Team throughout the planning process and were delighted to receive unanimous approval from members at planning committee in October. Carter Jonas worked diligently throughout the process, helping to form strong relationships with the council's case officer and assisting in effective community engagement with the Parish Council. Carter Jonas provided competent professional advice to us and our Project Team at both the pre-planning and post-submission stages, and we now look forward to delivering high quality housing in Rackheath.

Strategic land and planning manager